The Ministry of Industry and Trade has instructed Vietnam Electricity (EVN) to ensure adequate power supply during the dry season this year without residents and commercial production facing blackouts.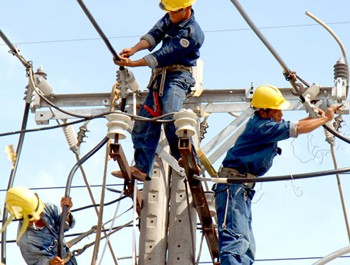 (Photo: SGGP)
Vietnam National Oil and Gas Group and Vietnam National Coal and Mineral Industries Group are responsible for sufficient and continuous supply of gas and coal to thermal power plants to operate during peak dry season.
According to EVN, the long-lasting drought since the end of last year has depleted several hydropower reservoirs, which will greatly affect power supply in coming months of the dry season this year.
The group has set up plans to mobilize power plants at highest capacity to meet demand, ensuring continuous and uninterrupted supply to residents and production units.
They will coordinate with the Ministry of Agriculture and Rural Development to balance power generation and irrigation water supply for the summer-autumn rice crop.
EVN will not make any repairs or maintenance beyond the approved plan unless it is deemed necessary by the Ministry of Industry and Trade.
In April, the group mobilized an output of 9.46 billion kWh, partly from diesel oil, to increase by 7.7 percent over the same period last year. Power from diesel oil is higher cost.
Total electricity output imported and produced domestically in the first four months this year reached more than kWh41 billion, up nearly 11 percent year-on-year.