The Ministry of Defense will use VND10 billion (US$ 474,114) from the Fund for Natural Disaster Prevention to rebuild the Z121 firecracker factory and compensate households who suffered losses in the recent explosion.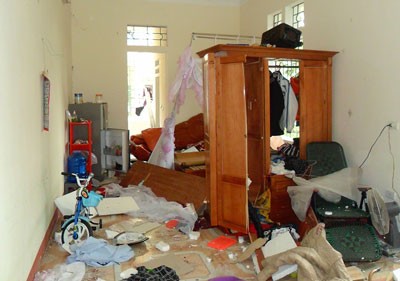 After the explosion, a house is destroyed  (Photo:SGGP)
General Phung Quang Thanh, Minister of Defense, announced this when he visited the site of the explosion at the firecracker factory and called on some of the victims. The General Department of Military Command, under the Ministry of Defense, is investigating the cause of the deadly explosion.
The explosion killed 27 workers and injured 65 others. The firecracker factory warehouse was completely destroyed in the explosion.  The Ministry, the General Department of Military Command and the factory leaders have provided VND100 million ($4,740) to each of the dead victims' families and more than VND30 million ($1,422) to each of the injured.
The local government has also given VND5 million to each family of a dead worker, VND2 million to each injured worker, and VND10 million towards houses completely destroyed in the vicinity of the explosion.
Related articles:
Explosion at firecracker factory leaves 20 dead, 80 injured
Four more casualties reported in firecracker factory explosion
Compensation for 1,348 affected households in factory explosion