The Ministry of Construction has just submitted to the Prime Minister a pilot project for renting houses instead of selling, a plan aimed to bring some relief to the stagnating real estate sector.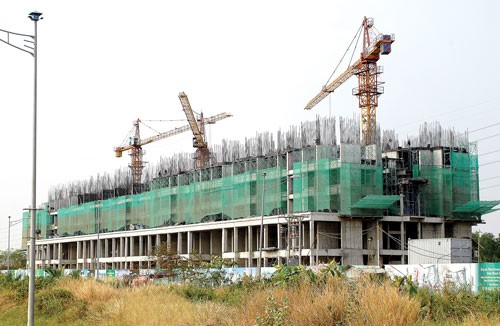 Real estate market remains stagnant and MOC expected the conversion of unsold properties to rental housing will partially relieve the pressure on the local property market (Photo: SGGP)
The Ministry is expecting the conversion of unsold properties to rental housing, which they hope will partially relieve pressure on the local property market, and meet the needs of low-income people who cannot afford a high market price.
Rented houses account for more than 6.3 percent of people who own a house in the country.
Many real estate projects in the city are far behind schedule or are still incomplete, with investors not eager with the plan to build houses for renting, as payback period would stretch for a long time.
According to news reports, property enterprises will enjoy preferential taxes and interest rates that will be announced by the central bank.
A minimum loan term for house buyers and for those renting property will be 10 years, and five years for corporate groups.
Regarding loans, people renting houses can borrow at least 80 percent of the value of the house they intend to rent, while corporate customers can borrow up to 70 percent of the amount.
The Ministry has selected five real estate projects in the country to carry out the pilot proposal. Selected projects are commercial house projects for selling in which investors are facing difficulty in selling and want to transfer to rental property as per market demand.
The Ministry also suggested to the PM to have more such projects included in the new scheme.
Five projects have been selected for conversion from commercial houses to rental property, namely, Bee Home 1 at 928 Than Nhan Trung Street in Tan Binh District and Bee Home 2 at 359 Pham Van Chieu Street in Go Vap District; both of them belong to CT Group Corporation.
A third project is a housing project for workers in My Hoa Commune in Binh Minh District in the Mekong delta province of Vinh Long, belonging to Hoang Quan Realty Commercial Company.
The fourth and fifth project are for business purpose in Tien Son district and housing for staff and workers in Yen Phong Industrial Park. Both projects are in the northern province of Bac Ninh belonging to Viglacera Company.