The Ministry of Public Security held a teleconference with localities nationwide to review the public security force's performance in climate change, natural disasters and search and rescue work last year and determine major tasks for this year.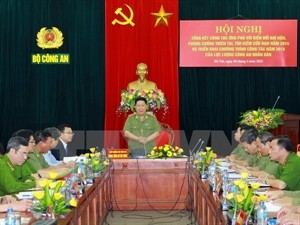 Scene at teleconference. Source: VNA
Addressing the event, Deputy Minister of Public Security Lieutenant General Bui Van Thanh urged local public security forces to promptly respond to disasters while paying greater attention to prevention efforts.
He asked the forces to enhance communications and education to raise awareness among the community and public security officials of their responsibility in coping with climate change and natural disasters as well as preventing disasters and surmounting their aftermath.
The force should put greater attention into personnel training as well as cross-sector and international information sharing to stay active in responding to natural disasters, he said.
Lieut. Gen. Thanh also asked local public security forces to increase exercise drills to ensure preparedness in all circumstances while making sure all necessary equipment is readily available.
Last year, public security forces maintained around-the-clock readiness for natural disasters, storms, floods and severe incidents. The local forces helped evacuate 371 households and 60,308 locals from dangerous areas.
On the occasion, the ministry granted certificates of merit to 21 outstanding collectives and two individuals with excellent performance in 2014.