The Ministry of Finance has recently proposed the Government to further support farmers in buying insurances for their crops and breeding.
According to Mr. Le Song Lai, deputy head of the ministry's insurance department, proposed assistance is for about 80-90 percent of the insurance fees for poor farmers. For other households, it would be 50-60 percent.
Farmers often suffer damage caused by animal diseases, crop diseases and natural disasters annually. For instance, the blue ear disease alone has killed tens of thousands of pigs annually since 2007.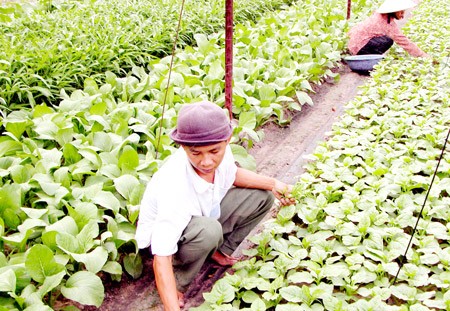 Farmers grow organic vegetables in Ho Chi Minh City's Cu Chi District (SGGP file photo)
A host of them have lost billions of dong or even bankrupted after each wave of floods, storms, drought and plague, according to reports.
The first company providing agricultural insurance is State-run group Bao Viet, which initially provided insurance service for rice fields in the northern province of Nam Dinh in 1983. The service was then broadened to 26 other provinces and cities with about 200,000 hectares of rice.
However, it came to an end in 1999 due to severe losses.
Hoang Xuan Dieu, in charge of Bao Viet's agricultural insurance, said that the group now just insures for those breeding cows and catfish and growing rubber trees in eight provinces and cities nationwide.
At present, only Bao Viet and foreign-invested Group Pama provide agricultural insurances in the country.