Traffic offenders will be dealt with more severely than they have been in order to make the motoring public aware of the need for safe and careful driving, an official from the Ministry of Transportation said.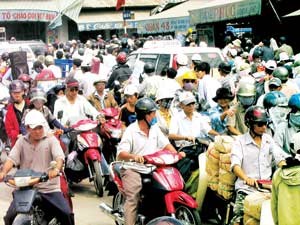 More people begin to wear crash helmets

Among the harsher penalties just announced, the fine for riding an unregistered motorbike in the 175cc range now varies from VND1 million to VND2 million, or double the previous amount.

Exceeding the speed limit by 20-35kph will attract a fine of VND1 million to VND3 million, or VND1 million higher than before.

The ministry is also targeting irresponsible bus drivers, who will be fined VND100,000 to VND300,000 for each extra person above the permissible limit.

For reckless driving or street littering, the fine now ranges from VND200,000 to VND3 million depending on the severity of the offence.

And if an offence is serious enough, the offender's vehicle will be confiscated.

More importantly, the practice of making a tick on an offender's license to represent the number of traffic offences they have committed has been abolished. Instead, the offender will lose their license for a set period or permanently if the offence warrants it.

Any motorist whose license has been suspended for 60 to 90 days must attend classes on the road rules and retake the licensing exam.

If a license is cancelled, the offending motorist must wait a year before applying for another one.

In related news, manufacturers and assemblers of crash helmets have increased their production rate to 3,000 helmets a day but still cannot keep up with the rising number of orders.

The massive demand has pushed up the retail price of a helmet by VND5,000 to VND20,000.

At the same time, shops that sell head caps and other hats are losing customers despite dropping their prices by up to 50 percent. Many of the shops have had to close down or switch to other merchandise.