The Ministry of Agriculture and Rural Development on Thursday sent a request to report to Deputy Prime Minister Hoang Trung Hai about the increasing encroachment of land along the Red River dyke area in Hanoi.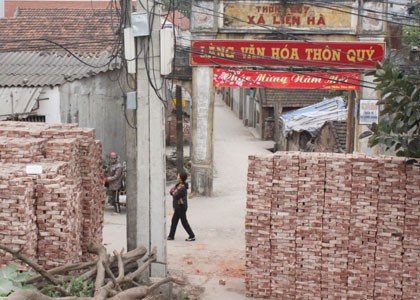 Bricks piled illegally on the Red River dyke area in Lien Ha Commune, Dan Phuong District in Hanoi (Photo: Hanoimoi)
According to the ministry, encroachment has worsened along the river dyke areas in Hanoi where people have violated the regulations pertaining to the Dyke Law. Several severe violations have not been appropriately tackled and hence keep recurring.
Since 2008, Hanoi alone has recorded 1,616 cases of encroachment along the river dyke areas, of which only 741 cases have been dealt with.
There are several reasons that have led to increased encroachment of the river dyke areas, one important one being total lax management of local authorities, who have in some places even permitted individuals and businesses to use the land.
The ministry has thus proposed to the Government to issue orders to authorities in Hanoi and neighboring provinces to prevent such encroachment of land around river dyke areas.
Related articles:
Unchecked encroachment of Red River dyke, embankment
Heavy truck traffic downgrading Red River dyke system