Prime Minister Nguyen Tan Dung recently asked eight ministries in the list of "particular concern" to have better administrative reforms.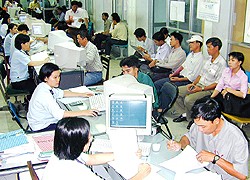 Customs procedures will be simpler and less time-consuming

According to the PM's instructions, the Ministry of Planning and Investment must review regulations on business registration, investment license, incentive certificate issuing and such for foreign-invested enterprises.

The Ministry of Natural Resources and Environment should focus on the procedures of granting land and land-use certificates.

The others on the list are the Ministries of Construction, Finance, Health, Education and Training, Justice, and Home Affairs.

The mentioned ministries must report the results to the PM before mid-December.