Trade and economic relations between ASEAN and Russia were seeing prospects for expansion, a joint statement from Vietnam's Danang City said Tuesday.
The statement was released at the first consultation between ASEAN economic ministers and their Russian counterpart, co-chaired by Vietnamese Minister of Industry and Trade Vu Huy Hoang and Russian Minister of Economic Development Elvira Nabiullina.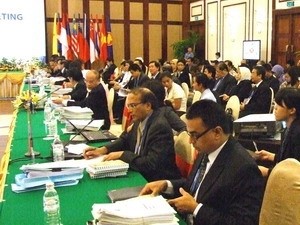 A session of the ASEAN Senior Economic Officials Meeting in Danang in central Vietnam (Photo: Vietnam News Agency)
"The ministers agreed that it would be in the best interest of both ASEAN and Russia to enhance economic co-operation," the statement said.
Hoang and Nabiullina said total trade between ASEAN and Russia declined last year compared with the previous year, mainly as a result of the global crisis because both sides were emerging economies.
They noted that despite the decline, the trade value last year was still higher than pre-crisis levels.
The ministers said the global crisis did not affect foreign investment flows from Russia, which grew significantly last year. They noted that investment flows from other emerging regions had become more significant to their economies compared to investments from developed economies.
At yesterday's meeting, participants exchanged views on various proposals to enhance ASEAN-Russia economic co-operation.
Hoang and Nabiullina agreed that the SEOM-Russia (Senior Economic Officials' Meeting) Consultations would be the main body for co-ordinating economic co-operation projects and activities.
They tasked senior economic officials to look into proposals including the establishment of a joint expert group that would include business sector representatives to develop a comprehensive roadmap for co-operation.
The ministers said they looked forward to seeing a joint statement at the Second ASEAN-Russian Federation Summit, to be held in Viet Nam in October.
They also agreed to meet again for the second consultation between ASEAN economic ministers and Russia next August.
New publications

On Tuesday, two new publications designed to attract more foreign investment into the region and support ASEAN-based enterprises were launched. They include the "ASEAN Regional Guidelines on Competition Policy" and the "Handbook on Competition Policy and Law in ASEAN for Business."
"Both aim to create a fair and transparent competitive environment in the region," said Hoang.
ASEAN Secretary General Surin Pitsuwan said the publications would lay the foundation for a highly competitive ASEAN Economic Community and thereby enhance dynamic trade and investment relationships between the bloc and its partners in the coming years.
"Despite the economic downturn, ASEAN has proven itself to be a competitive region," he said.
Pitsuwan quoted that ASEAN's total trade in goods now stood at about US$1.54 trillion, while ASEAN's share in the total global foreign direct investment inflows increased from 2.8 per cent in 2008 to 3.6 per cent last year, reaching $1.1 trillion in value.