Avoiding wasted investments, speeding up administrative reforms and improving social conditions are needed for sustained development, National Assembly deputies said yesterday at a session devoted to socio-economic progress.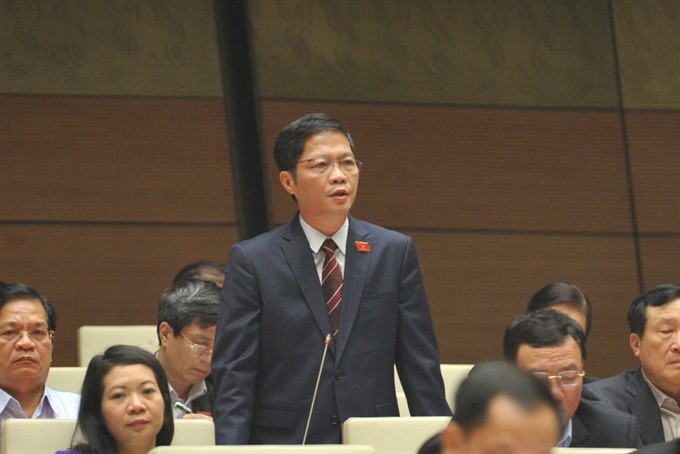 Minister of Industry and Trade Trần Tuấn Anh said the Government authorised the ministry and relevant agencies to inspect some inefficient investment projects. (Photo: VGP)
Minister of Industry and Trade Trần Tuấn Anh said the Government authorised the ministry and relevant agencies to inspect some inefficient investment projects.
These include the VND12 trillion (US$533.33 million) Ninh Bình fertiliser plant in northern Ninh Bình Province, VND7 trillion Đình Vũ polyester fibre plant in nothern Hải Phòng City, and VND3 trillion Phương Nam paper mill in the Mekong Delta province of Long An.
The other ailing projects are VND8.1 trillion Thái Nguyên iron and steel factory in nothern Thái Nguyên Province, and several nationwide facilities producing ethanol, which is used to make bio-fuel.
The State-invested projects have suffered losses and some are idle.
Prime Minister Nguyễn Xuân Phúc is considering inspection reports and will conclude how to deal with the projects later, said Anh.
"These projects reveal holes in State management affairs. They are just examples and there are certainly more projects exposing potential risks of causing losses to national and social resources," he said.
Authorities will work to preserve State capital following market rules, and specify individuals and units that are to be responsible for misspending in investments, he said.
While Việt Nam is striving to create an active and incorruptable government to serve people and business and foster national development, Deputy Dương Văn Thống from nothern Yên Bái Province pointed out an obstacle: the public administration apparatus is too cumbersome. There are unnecessary sections in many organisations, he said.
In Yên Bái alone, the number of people paid out of the State budget reached more than 17,000 and their payroll totalled VND1.1 trillion this year. This compared to the total regular spending amount that the province allocated for the year of about VNĐ4 trillion.
Nationwide, public staff should be cut by 20 per cent or more to reduce budget spending and make better use of financial resources, Thống suggested.
Deputy Ngọ Duy Hiểu from Hà Nội agreed that a part of the country's human resources still shows poor performance, with some civil servants troubling businesses and citizens and obstructing national development.
One reason for this is that many public servants are appointed to positions for which they are not suited in terms of skills and experience. Education and training must track demand and standards in the labour market more closely, he said.
Deputy Hoàng Đức Thắng from central Quảng Trị Province said education is among the pressing social issues needing improvement.
A lack of proficient teachers and a rise in school violence have recently grown, in addition to untackled problems related to healthcare waste, food hygiene, traffic jams and traffic and workplace accidents.
Thắng said despite national efforts and tens of billions of đồng invested, little improvement has been seen.
"It seems that we are attaching too much importance to economic development and paying inadequate attention to social fields. Facing the prevailing problems, the people can't be at rest… They hope for more drastic actions of the Government," he said.
Many delegates urged agricultural restructuring for green and hi-tech farming developments that are more resilient to climage change.
They recommended measures to accelerate agriculture, such as building proper irrigation works, assisting farmers with seeds and materials to create more products with greater added values, encouraging enterprises to invest in the area, and establishing closer linkage among farming regions.
Delegates also said stimulating business growth, accelerating the fight against corruption, and assuring energy security and sovereignty over the territorial waters are vital for socio-economic development.