Minister of Industry and Trade Vu Huy Hoang has ordered Vietnam Electricity (EVN) to coordinate with relevant organizations maximize the country's electrical output.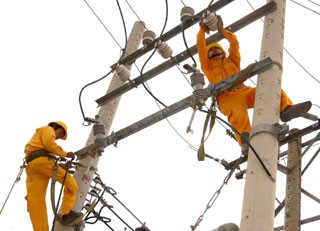 Minister of Industry and Trade Vu Huy Hoang instructs EVN to generate power at highest capacity to maintain production and serve people's needs
The order comes in accordance with Prime Minister Nguyen Tan Dung's instruction to serve production and the most important daily needs of citizens.
Relevant organizations include the Vietnam Oil and Gas Group (PVN), Vietnam National Coal – Mineral Industries Group and other power companies.
Allotment of power should prioritize the needs of production, especially units producing export goods, as well to hospitals and schools.
He said EVN should draft plans to mobilize all power sources to meet electricity demand in May and months that follow.
The group should also regulate additional charges and inform households in advance of upcoming power cuts.
Earlier, during an online conference between several departments and economic groups on the seemingly haphazard, continual power cuts, EVN failed to provide an explanation.
However, an EVN official said that the company was able to generate more power from oil thermal power plants but it did not do that because some plants required repair. Also, company was afraid of suffering major financial losses.
An official from Ho Chi Minh City's electricity industry said that one kwh of oil thermal power costs VND4,000-5,000, while EVN's average power prices in the first quarter of the year were below VND1,000 a kwh, the price set by the State.
As a result, for its own benefit, EVN would seek for many reasons to not operate oil thermal plants.
During the recent weeks of scorching weather, EVN reduced the oil thermal power output from 18 million kwh a day in March to just 2-3 million kwh a day in April.
The oil thermal power output, as of April, at the company's southern plants of Thu Duc, O Mon and Hiep Phuoc plants was 300 million kwh.
At present, these plants operate at only one third of maximum capacity.
Other hydro power plants generate power, but these plants could not to sell their services to EVN, as the company refused to buy them at the prices offered. ENV also cited the lack of transmission lines, which the company plays monopoly role in producing.
Specifically, Lao Cai Hydropower Plant now has 700MW of power unsold due to a shortage of transmission lines.
The monopoly mechanism of the Vietnam electricity industry has led companies like PVN and Song Da Corporation to produce electricity in Laos, instead of locally.
The total capacity of these companies operating out of Laos is about 5,000MW, accounting for one third of Vietnam total power capacity.