Vietnam needs to establish an order to better protect the environment, especially land and natural resources, from any abuse of economic growth, said Minister of Natural Resources and Environment Nguyen Minh Quang.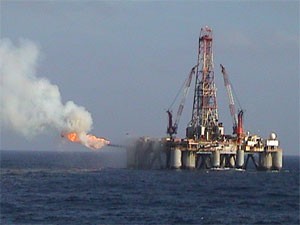 A drilling rig in Vietnam southern beach town Vung Tau. Minister Nguyen Minh Quang said the country needs to use natural resources with care for the sake of long term development (Photo: Phan Hien)
The newly-elected minister said land and natural resources will be made the priority in his five-year tenure and he would make efforts to protect them.
Quang said his challenges for the new job include to make a lot of amendments to the Land Law established in 2003 to suit current economic and social conditions.
Complicated violations to the environment are another problem he would have to deal with, the minister said.
As many among the environment polluters discovered so far have been identified as large local state-owned firms, Quang said the point of view of the ministry is always "not to scarify the environment for economic growth."
He said the ministry will cooperate with concerned agencies to inspect the firms in question and would have suitable solutions under laws.
Quang said both the central government and city/provincial ones always try to make a balance between economic growth and environment protection.
"I am a person who tell the truth and tell it frankly, so I will not hesitate to defend my opinions [at government meetings]."
He said economic projects to be approved under his term, as well as those under operation, would be supervised more strictly.
The agriculture engineer and former Deputy Minister of Agriculture and Rural Development also expressed concern over a lot of golf courses that have been built on paddy fields.
As the country is under the industrialization process, Quang said the switch of agricultural land for other purposes "is a need" but "it has to be done with great care."
Quang said it has cost generations of farmers to create paddy fields, so the land cannot be switched for other uses without careful planning.
According to the minister, Vietnam's government has decided to preserve 3.8 million hectares of paddy field, after considering the matter of food security.
That already puts the area of agricultural land per head in Vietnam among the lowest group compared to other countries, he said.
Quang said that the Law of Natural Resources established recently introduces the practice inviting bids for land and other natural resources development projects, which will help save them.
He said the government should stop the practice of the granting such projects to senior officials as a free gift.
"We need strategic plans with long-term vision to develop and process natural resources," the minister said.
"We cannot sell the resources (to foreigners) at cheap prices, only for our children later to buy them back at expensive prices."