Vietnam's transport firms need a refresh in order to develop in the current difficult time of the economy, newly-elected Minister of Transport Dinh La Thang told press agencies.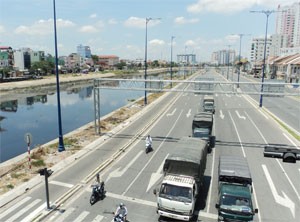 East-West Highway in HCMC. Minister of Transport has called for restructing transport firms to improve infrastructure facilities (Photo: Minh Tri)
Thang said that many transport firms, both local and worldwide, have face difficulties during this time of financial crisis and economic slowdown because the cost is high but the transport fares have been reduced.
Larger firms will face larger troubles, he said, referring to the case of the state-owned shipbuilder Vinashin which has been caught in huge debts.
The minister said transport firms need to be restructured in order to be more competitive for developing traffic infrastructures.
During his first tenure as the Minister of Transport, Thang said he will focus on building staff and draw investments for the reconstruction of the firms, especially major ones.
The minister also said that each single person in the country needs to take responsibility for traffic accidents, which have been a major cause of deaths in Vietnam every day.
Thang said the problem has to be dealt with by everyone, from the top government officials to the residents.
"The traffic participants are the ones who decide if there're traffic accidents or not.
"Traffic accidents are not a matter of nature, or an issue of only the Minister of Transport or local officials. The matter is of every person using the traffic," he said.
Speaking about the ministry's plan for the new term, Thang said investments will be focused on the north-south expressway project, which is part of a government plan.
"The road is very important as it will be the bloodline connecting Hanoi and Ho Chi Minh City," he said. "This project has the most importance and the highest practical use."
Investments into the freeway will immediately solve a large number of traffic and cargo transport problems.
Yet the project would need investments from private sector to be able to proceed.
Thang said the ministry will offer interesting policies to lure investors and attract loans from financial institutions.
Meanwhile, he said the ministry will focus on improving the north-south railway as "building a new one right now is rather difficult."
The railway would be widened from one to 1.4 meters and bridges along the railway would be upgraded.