An earthquake measuring 2.0 on the Richter scale shook Song Tranh 2 Hydropower Plant in Bac Tra My District in Quang Nam Province at 1.55am on November 25, according to the Earthquake Information and Tsunami Warning Center.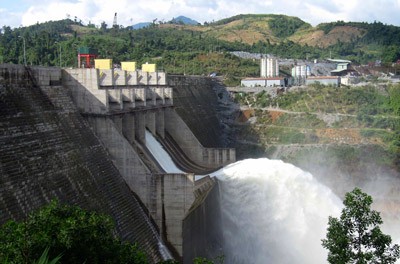 Song Tranh 2 Hydropower Plant (Photo:SGGP)
The earthquake was located at 15.30 degrees latitude north and 114.1 degrees longitude east, causing tremors of level three at the epicenter. Luckily, the earthquake did not affect the local residents much.
On the afternoon of the same day, Le Van Tuan, Head of the People's Committee of Bac Tra My District, said that he had not received any prior warning of the earthquake.
Talking to a reporter of SGGP Newspaper, Vu Duc Toan, Director of Song Tranh Hydropower Company, said he too had no information of the coming earthquake.
Currently, the water reservoir of Song Tranh 2 Hydropower Plant is at 161.2 meters, informed the authorities in Quang Nam Province.