Party Committee of Nam Dinh province yesterday held an inauguration ceremony of a memorial house of Le Duc Tho who was known as senior adviser of Democratic Republic of Vietnam's mission in Paris Peace Talks in 1973 at his home town.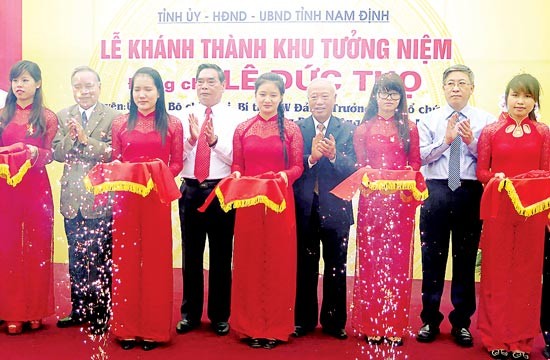 The inauguration ceremony of a memorial house of Le Duc Tho (Photo:SGGP)
This memorial site will be officially completed on 10th October, 2014 to celebrate the 103th anniversary of his birthday.
The memorial house was built in Nam Dinh's Nam Van commune includes a place of worship and a small museum which displays artifacts, photos related with comrade Le Duc Tho's childhood and 65 years of his revolutionary career.
At the ceremony, Nam Dinh Provincial Party Committee Secretary Pham Hong Ha stressed that Le Duc Tho Memorial House was a meaningful construction, aiming to not only express the young generation's deep gratitude but also contribute to historical education for young generation.
Comrade Le Duc Tho was a Standing Member of the Central Committee's Secretariat of the Communist Party of Vietnam from 1960 to 1986 and Head of the Central Organizing Committee of the Communist Party of Vietnam later became the Advisor of Party's Central Committee.
During Paris Peace Talks comrade Le Duc Tho and U.S. National Security Advisor Henry Kissinger since February 1970 engaged in secret talks that eventually led to a cease-fire in the Paris Peace Accords of January 23, 1973.
He was awarded the 1973 Nobel Peace Prize together with Henry Kissinger for their roles in negotiating the Paris Peace Accords but he refused to receive, claiming that peace had not yet been established in Vietnam at the time, and that the United States and the South Vietnamese governments were in violation of the Paris Peace Accords.