This afternoon November 24, Deputy chairman of Ben Tre province People's Committee said the province has asked localities to prepare for the typhoon.

At 13pm this afternoon, schools and entertainment areas were temporarily closed. The authority banned all vessels from sailing to the sea.
The Mekong's locations have being rechecked the dyke systems and taken measures to evacuate local residents living in low-lying areas to safer places.
It is forecast that 16,000 people living along the coastal areas of Ba Tri, Binh Dai and Thanh Phu districts in Ben Tre province would be evacuated to safe areas.
Heavy rains appeared in Ben Tre province this morning. The provincial committee for natural disaster prevention & control asked agencies to take measure to deal with the disaster.
In Tra Vinh province, Chairman Dong Van Lam said the provincial board on natural disaster prevent & rescue prepared for coping with the typhoon.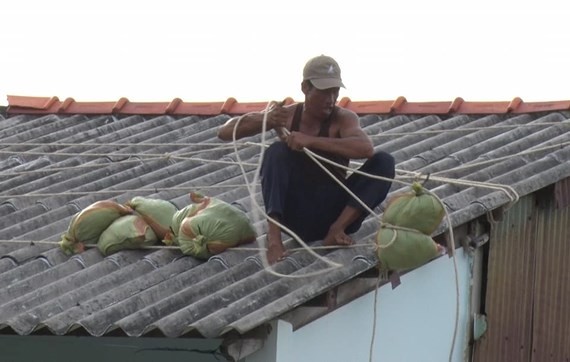 Mekong residents prepare for typhoon Asagi
The authorities contacted vessels operating at sea to seek shelter to avoid the typhoon or move out of the dangerous zones. They repaired dykes, construction work along beaches. Tra Vinh province department of agriculture & rural development said over 1,000 fishing boats were moved to shelter to avoid the typhoon.
In Long An province, director of the provincial department of agriculture & rural development said the provincial leaders asked related agencies/departments to eye on weather situation to have preventive measure and ensure safety for fishing vessels and fishermen.
In Tien Giang province and Can Tho City, the provincial leaders said they often update weather forecast to local residents and fishermen adding that this afternoon, a strong wind appeared in Tien Giang at level six, seven. The possibility thunderstorms and whirlwinds will also hit the region tonight.