Factories in the Mekong Delta face an unprecedented labor shortage, especially at a time when they are trying to expand production for exports, with more and more workers preferring to be self-employed or work under less restrictive regimens.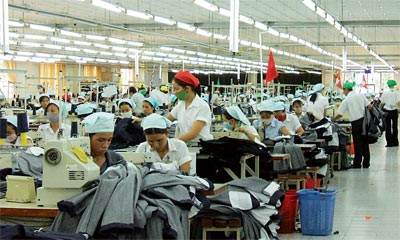 A garment factory in the Mekong Delta. Industries in the region are facing an unprecedented shortage of workers who prefer vocations that involve less regimentation (Photo: SGGP)
Nguyen Duy Nhut, deputy general director of Nam Viet Seafood Join Stock Company, said, the fourth quarter is usually a time when seafood companies expand production to meet increasing overseas demand, but the current shortage of workers is putting companies into a stressful situation.
 
Nam Viet is seeking to immediately hire 200 workers but has received only a few applications.
 
Ching Luh Shoes Company based in Long An Province is looking for 3,000 workers and has offered high salaries and good working conditions, but has found few takers.
 
Ly Van Thuan, general secretary of the Ca Mau Association of Seafood Exporters and Producers, said the labor shortage is likely to worsen.
 
It is a result of the mushrooming of industrial parks and people's reluctance to work in factories, he said.
 
At clothing, footwear, and seafood factories, the working hours are long and the environment stressful but the average salary is only VND1.1-1.5 million, he added.
 
Huynh Ngoc Mai of Dong Thap Province, who recently quit her job after working for over two years at a footwear company in Long An Province, said she had to work for over eight hours a day in a noisy, dusty, small, and stressful environment and eat poor meals.
 
Le Van Ne of Can Tho said for a salary of barely VND1.5 million at seafood companies, people have to work in cold plants from early morning to evening and sometimes on night shifts.
 
Phan Thanh Phi, head of Long An Province's industrial parks, said: "Firms and workers have yet to sympathize or share their interests with each other."
 
Most delta workers are farmers and have not got used to industrial work, he said, adding many are not comfortable with their strict time schedules and would rather go to work whenever they like.
 
An industrial park official, who wished to remain unnamed, said people prefer to work as masons, carpenters, and sales or marketing people for VND80,000-140,000 a day. Not only is the salary higher than workers' but also the schedule is highly flexible.
 
According to a preliminary survey by industrial parks in Tien Giang Province, seafood, clothing, and footwear factories now face a shortage of 3,000-3,500 unskilled workers.
 
They are working with vocational-training centers and local administrations to scout for workers; some firms are willing to pay other expenses in addition to salaries and pick up the workers at home, but are still unable to find enough candidates.
 
Mr. Thuan said: "This year, importers are interested in small tiger shrimps and white-leg shrimps. Shrimp processors need over 5,000 workers, and have looked for long but have not found enough workers."
 
Mr. Phi said Long An faces a serious shortage of workers when it just needs 40,000 workers. In future, when another 20 industrial parks come into operation, it would need 200,000, he said.