Cajeput tree growers in the Mekong Delta are distressed as selling prices have plunged and the trees have become increasingly difficult to sell.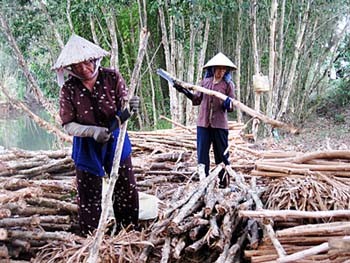 Residents chop down cajeput trees to make firewood in Long An Province. Once a profitable enterprise, cajeput growing is now being abandoned by locals who complain that tree prices have dropped sharply. (Photo: SGGP)
The once-profitable trees were largely purchased by contractors to use in building projects as the wood is known for its strength and versatility.
According to the delta provinces' departments of agriculture and rural development, the cajeputs have recently dropped in value because contractors now prefer other materials like grit, stone, plastic and concrete to make pillars.
They also said that local residents had begun using more fertilizers to reduce the harvesting time from 10 years to just six, which led to a drop in the quality of the wood.
Over the last few years, farmers have mainly been selling the cajeputs to traders for firewood or to businesses who cut the trees into smaller bits for export.
Residents in the Mekong Delta province of Long An, one of the largest cajeput-growing areas in the country, say that due to the trees' low selling prices, they are indifferent as to whether the cajeputs are safe from recent forest fires in the area.
Sau Lieu, owner of two hectares of cajeput forest in Thach Hoa District, said that in dozens of years growing the trees, he has never seen prices plummet this low.
Currently, one hectare of 6 to 8-year-old forest is selling for just VND15-18 million. At these prices, farmers are suffering huge losses after investing in saplings, fertilizer, and labor.
Another resident named Ho Van Sum from the same district says he has grown cajeputs for 25 years and that prices once peaked around VND60-80 million per hectare.
But prices have slid continuously over the years, he said. Despite decades of investment, Mr. Sum has now been forced to destroy two hectares of cajeputs to grow other, more profitable trees.
Many households in the delta provinces of Dong Thap and Tien Giang are also in the same situation.
Although the cost of destroying a hectare of cajeput forest and transforming the land to grow rice is rather high, at about VND18 million (US$1,000), many local residents are opting to fell their cajeputs in hopes of making more money with rice, said Hoang Dinh Toan, chairman of the Truong Xuan Commune People's Committee in Dong Thap's Thap Muoi District.
The commune's cajeput area has slid from 3,500 hectares to just 1,800 hectares now.
Authorities fail to find solutions
Le Phat Dat from Long An Province's Department of Agriculture and Rural Development said that the cajeput-growing area has sharply reduced from 69,000 hectares to just 47,000 in the province, bankrupting plans to cultivate around 70,000-75,000 hectares of the trees.
The area will continue to be narrowed if prices keep falling while authorities have not found any viable solutions to the issue, he said.
Dr. Duong Nghia Quoc, deputy head of Dong Thap Province's Department of Agriculture and Rural Development said that the province has carried out several measures to keep the cajeputs, including giving residents VND1.5 million for each hectare of trees replanted.
However, conditions have not improved, he said.
Meanwhile, Dr. Duong Van Ni, director of a biodiversity research center in Hau Giang Province, said that the potential for domestic cajeput sales in Vietnam is very high.
Vietnam's wood product exports yield US$2.8 billion each year, however the materials used to make the export products are mainly imported. In addition, factories producing pulp, wood chips and plywood report a shortage of materials.
The abundant cajeput output in the Mekong Delta is not being utilized properly, Dr. Ni said.
The problem is that authorities have not suitably planned out cajeput growing areas or strategies. There has also been a lack of communication between businesses and residents, he said.