The Cultivation Department laid out its plans, at a conference hosted by the Ministry of Agriculture and Rural Development yesterday, to increase the rice output for the coming autumn-winter crop in the Mekong Delta Region of Vietnam.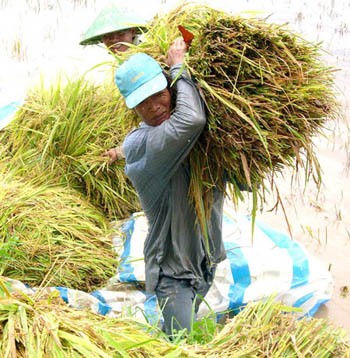 Harvesting rice in the Mekong Delta (Photo: SGGP)
The department is targeting 24.5 million tons this year, an increase of nearly one million tons over the last year. 
At the same conference held in Can Tho City, the Plant Protection Department said that the current summer-autumn crop was plagued by brown grasshoppers, yellow dwarf and blast diseases that have increased compared to last year.
Bui Ba Bong, deputy Minister of Agriculture and Rural Development ordered the Mekong Delta to take measures to deal with the diseases affecting the rice crops and also reinforce the dyke system to ensure a bumper autumn-winter harvest.
He said that the health of the crops would determine the rice production targets. Rice must reach a target of 500,000 tons this year.
The Government has agreed to assist the Mekong Delta Region with funds to help increase its autumn-winter rice cultivation area.