Residents in the Mekong delta are in despair at the speedy salinity of the river bed. This year has seen the salinity to reach high levels and earlier than expected.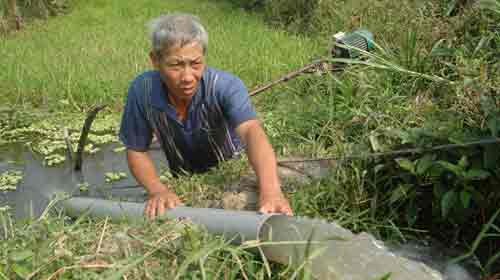 Farmer Nguyen Van Ut in Go Cong Town, Tien Giang Province, Mekong Delta pumps fresh water into his paddy field to save it from salinity (Photo: Tuoitre)
The area has seen tens of hectares of paddy fields and hundreds of hectares of vegetables destroyed and fresh water supply for human consumption has dried up.
Most of the winter-spring rice crop in district Tra Cu and Cau Ngang in the Mekong delta province of Tra Vinh has turned yellow, although farmers have not yet harvested the crop.
Mr. Kim Ngoc Leng in district Tra Cu is in despair as 1.7 hectares of his paddy has turned yellow. At first he thought that the crop has been plagued with insects but later he discovered that it was the excessive salt in the water which had caused the crops to turn yellow.
According to the initial statistics from the Department of Agriculture and Rural Development in the province, more than 1,700 hectares of rice in two districts has been destroyed due to salinity.
Farmers in two Mekong delta provinces of Soc Trang and Bac Lieu are also in despair because water in their rice fields has dried and the canal water is too salty to use. Nearly 9,000 hectares of high quality winter-spring crops in district Nga Nam in Soc Trang are facing destruction.
The Hau River has a high salinity penetration two weeks earlier than at the same period last year, according to Eng. Ngo Thi Duc Hanh of the Center for Hydro-meteorological Forecasting in the province. The salinity level measured was up to 6.3 grams in the rivulet mouth of Dai Ngai in the Hau River, as compared to only 3 grams during the same period last year.
Residents in the coastal Mekong delta provinces faced an additional problem of shortage of fresh water. People in coastal regions like Binh Dai, Ba Tri in Ben Tre province and Duyen Hai in Tra Vinh had to buy fresh water.
Le Van Tot, chief of Ca Thu hamlet in district Tan Phu Dong in Tien Giang province, said residents felt helpless and depressed as salinity has come too early. Some people in these areas have to filter alum water from nearby canals or ponds for daily household chores of cooking and cleaning. Many others have had to purchase fresh water at VND2, 000 per a 20 liter can.