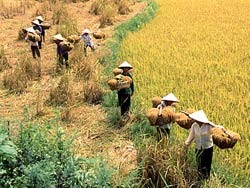 Despite achieving the large yield of rice, farmers in the Mekong Delta are unhappy.
Farmers in the Mekong Delta are unhappy as the rice's price is continuing to go downward, despite having achieved the projected yield of 6-6.5 tons/ha in the Winter-Spring crop.

On April 16, price of high quality rice for export was VND2,200 – 2,250 per kilogram, normally VND1,950 – 2,050 per kilogram, a drop by VND50 – 150 per kilogram from the last month.
Meanwhile, demand from traders is also at a low, causing a lot of difficulties to farmers who want to sell their stocks.
Thailand's rice is US$306/ton, down by US$3; meanwhile, Viet Nam's rice is US$243/ton, down by US$4.
In the first three months of this year, Vietnamese rice exporters exported 1.5 million tons of rice as part of a 2-million-ton contracts signed earlier.