People living in the Mekong Delta eagerly wait for the flood season every year, as they thrive from sales of various hand-crafted goods and huge hauls of fish and other aquatic animals. However, weather experts and elderly farmers predict that this year the flooding season will not raise water levels very high, thus sending a gloom across villages that specialize in making hand-made items.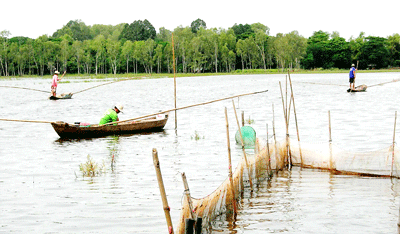 Fishermen in the Mekong Delta catch fish in the flood season and profit when water levels are very high (Photo: SGGP)
In Long An, Tien Giang, Vinh Long and Kien Giang Provinces, authorities and people are prepared for rising waters.
Locals no longer fear the floods these days; in fact, they relish the opportunity brought by the rain to make some extra cash.
At the end of July, farmers in villages prepare bamboo tools to catch fish and other aquatic animals during the flood season.
A gloomy atmosphere now prevails in 30 households in Thom Rom village in Thot Not District in the Mekong delta city of Can Tho, who specialize in making nets, because floodwaters are not rising these days.
Ho Van Ty, an elderly resident of the village and a business owner of a hand-made bamboo fishing net shop, is worried as this year there is a decrease by 50 percent compared to the previous years, as water is not rising as high as expected. Ty added that he has laid-off 20 laborers and so have other households.
The situation is the same in other villages who craft fishhooks, small boats, canoes, and bamboo fish traps in Districts Long Xuyen, An Phu, Tan Chau, Cho Moi of An Giang Province; Chau Thanh District of Hau Giang Province and Districts Hong Ngu, Tan Hong, Thanh Binh of Dong Thap Province.
People who are skilled at making bamboo fish traps were once thriving as Mrs. Huynh Thi Phuong of Lai Vung District in Dong Thap says her family stayed up late every night making traps, an activity that nets them VND5 million (US$240), but this time she cannot earn this amount. 
Even shellfish, crabs and dried fish sellers have to go to Thailand and Cambodia to seek fish, as small floods cannot provide enough fish for consumption meanwhile fishermen in the region complain of small quantities of fish hauls because of low water levels.
Vo Thanh, director at the weather forecast center in An Giang Province, said flood waters this year are one meter lower than in previous years. For instance, the highest level in Tien River in Tan Chau District on September 18 was 3.17 meters and in Hau River it was 2.75 meter while it was 4.16 meter and 3.54 meter in 2011 respectively. With small floods, the Mekong delta loses profits especially farms not covered with alluvial soil.
In some province, fearing big floods, the local government did not allow the third crop. For instance, rice was planned over 4,050 hectares in Hong Ngu District in Dong Thap Province, however farmers  have just planted in 650 hectare.
Nguyen Van Man, head of the District's Department of Agriculture and Rural Development said slow planting is due to incomplete pump stations and forecast of high flood.
According to the latest weather forecast, floodwaters will reach 3.8 meters so agricultural officials are encouraging farmers to plant more.
Meantime, farmers in Thuong Phuc 1 District planted of their own choice and harvested a bumper crop of 6.4 tons per hectare and earned more profit with a sale price of VND5,400 a kilogram, selling directly from the field.