Some provinces in the Mekong delta still consider social science research to be frivolous, said participants of a meeting held to discuss scientific issues of the region for the 2011-2015 term.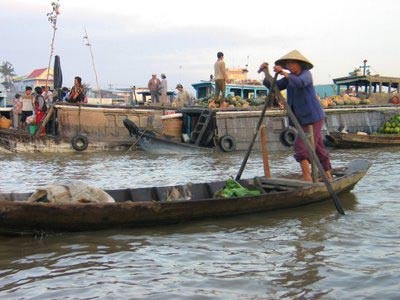 A floating market in Can Tho City(Photo: Ng. Nam)
The meeting, held in Can Tho City, the center of the Mekong Delta region, included scientists, presidents of institutes and researchers. Participants claimed the region, despite several achievements of late, still lags behind in its social science research, due to unprofessional methods that are not commensurate with the general growth of the region.
Professor Do Hoai Nam, President of the Vietnam Academy of Social Science, told the seminar that in the future, there would need to be more cooperation among scientists of central and provincial agencies to contribute to sustainable development of the region.
Meeting participants also discussed wide gap between the rich and the poor, the devastation of traditional values due to effects of international integration, maintaining steady growth, the training and utilization of personnel, as well as climate change.
Participants all agreed that collaboration between research and training, among the central and regional agencies, is essential.