An Giang Province's Forestry Department has applied information technology to the prevention of forest fires by employing Global Positioning System (GPS) technology and MapInfo, a Geographic Information System software product.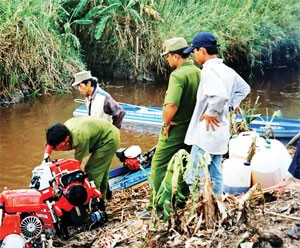 Forestry Department's officers install water pumps in U Minh Ha cajuput forest in Ca Mau Province  

An Giang has over 18,000 hectares of forest that are highly susceptible to fire during the dry season.

In Ca Mau Province, water levels at the U Minh Ha peat-swamp forest are 20 centimeters lower than the previous year. More than 10,000 hectares of forest, making up 18% of the total area, are becoming dangerously dry.

Over 4,000 hectares of cajuput forest in U Minh Ha National Park are considered to be at high risk of catching fire.

Local authorities have restored dykes and high-capacity water pumps, and established on-the-spot fire brigade teams to be ready in the event of fire.