Local authorities in the Mekong Delta are rushing to set up resettlement camps to evacuate thousands of households from an expected high flooding in various areas, after meteorologists predict torrential rain will raise flood crest to 4-4.5m this year.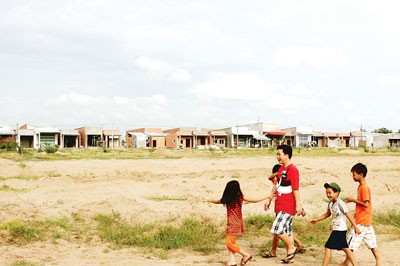 A resettlement area in Dong Thap Province for residents evacuated from flood and landslide prone areas (Photo: SGGP)
The People's Committee of Phong Dien District in Can Tho City has so far evacuated 142 out of 148 households from landslide prone embankments to safer places. The remaining six will be relocated by end of this month.
Can Tho City will also remove 12 households from landslide prone sections along the Can Tho River to temporary shelters, till they are moved to newly built houses.
Nguyen Van Thang, deputy chairman of the Phong Dien District People's Committee, is still very concerned because of shortage of funds to build resettlement houses for another 200 households, currently living along the Can Tho River.
Meantime, An Giang Province is rushing to complete 42 resettlement areas. However the number of households in need of evacuation has risen by 6,000. The province has proposed the Central Government assist them with VND530 billion (US$25.20 million) to construct another 19 relocation sites.
Nguyen Van Duong, deputy chairman of the People's Committee in Dong Thap Province, said that they have decided to build resettlement clusters in island communes of Thanh Binh District for 600 households to move into before the flooding season begins.
Another 4,000 households are still living in landslide prone belts. Of them 2,000 are located in dangerous areas and in urgent need of relocation but the province is short of funds and needs Government assistance.
Local authorities have also fortified the dyke system and set up rescue teams to supervise areas along rivers, so as minimize human loss.
An Giang and Dong Thap Provinces will maintain operations of clusters of 500 nursery schools in districts in the upper reaches. Each cluster will comprise of three to four kindergartens during three months of the flooding season and have enough lifebuoys, lifejackets, medicines, blankets and toys stocked in them.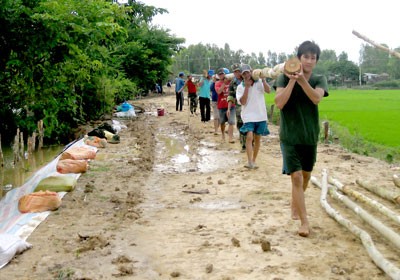 Mekong Delta residents fortify the dyke system to cope with impending flooding (Photo: SGGP)
They have also established 750 rescue stations with 4,000 youth volunteers to help in case of shipwrecks.
Youth volunteers in flood-hit communes of these two provinces are preparing boats to carry students to schools and take them home during the flooding season.
The Steering Board for Flood and Storm Prevention in Tien Giang Province are setting up measures to protect thousands of coastal residents and 50,000 hectares of fruit orchards from thunderstorms and fierce winds.