Mekong Delta Provinces are fast taking precautionary measures to save residents living in landslide prone areas by relocating them to safer places, as landslide conditions have worsened in recent days from surging floodwaters and continuous heavy rainfall.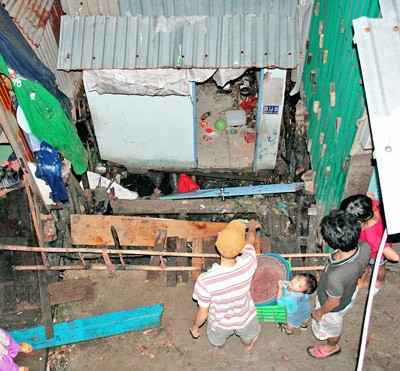 A house on Pham The Hien Street sank into the canal (Photo: SGGP)
Landslide areas are continually broadening, threatening safety of 394 households and the newly built market in Binh Thanh Commune of Thanh Binh District in Dong Thap Province. District authorities have spent nearly VND1 billion (US$48,000) to fortify the dyke system.
Meantime, the provincial People's Committee has withdrawn VND60 billion (US$2.86 million) from its budget to build a new residential area to relocate 300 households from landslide prone areas in Tan Binh Commune in Thanh Binh District.
An Giang Province has relocated nearly 1,000 households to flood proof residential camps in Long Xuyen City and An Phu, Chau Phu and Cho Moi Districts.
Vinh Long Province is rushing to evacuate 200 households from landslide areas in Binh Minh District to new resettlement houses before floodwaters rise even higher.
Hau Giang Province has completed evacuation of 200 households to safer accommodations.
However, thousands of households are still living in fear as they have no place to go. Landslides are many and frequent in these areas, and the new flood proof residential camps lack sufficient space to accommodate all. 
Local authorities also face capital shortage. An Giang Province has proposed to the Government to build another 19 new flood proof residential camps to relocate 5,500 houses, which were badly affected by landslides in 2011.
Dong Thap Province has asked for Government approval to build another five resettlement areas to early evacuate residents from danger areas.
In related news, a house on Pham The Hien Street suddenly collapsed and sank into the Doi Canal in Ward 4 of District 8 in Ho Chi Minh City.
Three adjacent houses are also on verge of sinking, leaning as of now and likely to collapse at any time.
 
Nguyen Minh Hoang, owner of the collapsed house, said that his family had just finished dinner when the river water gushed inside. The family moved up to the mezzanine floor but then had to abandon the house after they heard cracking sounds with the whole house beginning to shake vigorously.
Hoang and his wife picked up their children and fled out onto the street while the entire house just sank into the canal, belongings and all.