Uncontrolled exploitation of groundwater in Mekong Delta provinces is putting the vital resources at risk of complete depletion, experts warn.
More than 400,000 wells and hundreds of water supply stations now exploit huge amounts of underground water in the delta.
Currently, Ca Mau Province leads the extraction of groundwater with about 138,000 wells and a total capacity of 400,000 cubic meters per day.
Most urban areas in the provinces of Tra Vinh, Soc Trang, Bac Lieu and Ca Mau use the water for both daily living activities and farming production.
In Bac Lieu, farmers tap underground freshwater supplies to irrigate crops. People in some coastal areas also use the groundwater for farming and aquaculture activities.
Recently, UNICEF helped utilize fresh groundwater to help rural residents, especially children.
The main problem is that the use of groundwater is unregulated and out of control. Most wells are drilled by local residents themselves, with little thought given to the consequences of such rampant exploitation.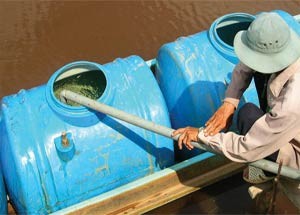 A resident in the Mekong Delta's Ca Mau Province extracts underground water. The rampant exploitation of underground aquifers in the region has put the limited resource in great jeopardy. (Photo: SGGP)
Currently, Ca Mau has no other freshwater sources other than rainwater. Bac Lieu and Soc Trang, meanwhile, see over half their land affected by seawater.
In Kien Giang, Tra Vinh, Ben Tre and Long An, the amount of available freshwater in rivers and lakes is not enough to meet the needs of daily living and agricultural production.
Nguyen Huu Cam, head of the Water Resources and Mineral Department under Ca Mau Province Department of Natural Resources and Environment, said: "Previously, there was a project to bring freshwater to Ca Mau from Hau Giang but it failed."
Therefore, he said, underground water is now essential to the province's socioeconomic development. Seafood factories have great demand for water, with each ton of product requiring 40-50 cubic meters.
Mr. Cam also noted, however, that as a result of such seafood production, huge amounts of harmful waste are regularly discharged into the environment.
Water levels dropping sharply      
The level of underground aquifers in Mekong Delta areas has dropped by 12-15 meters, Dr. Duong Van Vien of the Irrigation University, warned.
"If no urgent measures are taken, the level in many provinces will be completely depleted by 2014," Dr. Vien said.
Meanwhile, there are no specific regulations on protecting the underground aquifers, only advice and warnings from scientists.
 
Underground water is not an unlimited natural resource, so it is imperative to protect it, especially in the time of global climate change, experts said.
Scientists are now calling on agencies to review and assess the Delta's underground aquifers and outline effective solutions to improve management of the resources.
Appropriate, scientific plans for exploitation of the water must be put in place to stop the decline of underground aquifers and the sinking of soil layers, scientists said.