Despite recent flooding in the Mekong Delta, farmers have reaped high profits from bumper crops, according to the Department of Agriculture and Rural Development on Tuesday.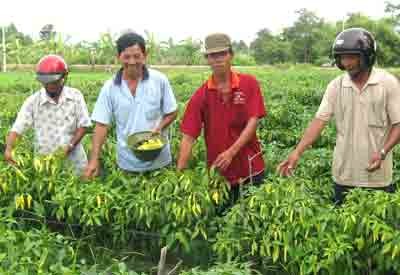 Chilly pepper farmers are jubilant with high prices for their bumper crop (Photo: Sai Gon Giai Phong)
Farmers in Binh Ninh, An Thanh Thuy and Hoa Dinh Communes in the Mekong delta province of Tien Giang are overjoyed as they have an abundant crop of chilly peppers which is selling for huge profits.
Farmers grew chilly peppers in 600 hectares, which gave yield of 10 tons a hectare. Traders have agreed to buy the peppers at VND40,000-VND45,000 per kilogram. Compared to other vegetable prices, chilly peppers have raked in excellent profits.
Dragon fruit farmers in Tien Giang Province have also benefited as price soared to VND18,000 a kilogram, an increase of VND10,000 compared to a fortnight back. At such high prices, they can make a profit of VND200 million per ha.
Farmers in Soc Trang and Vinh Long Provinces are as jubilant as Tien Giang farmers for selling the famous grapefruit 'Nam Roi' at VND10,000 a kilogram for the first kind and VND8,000 a kilogram for the second kind, an increase of VND4,000 per kilogram compared to two months ago.
Rice farmers are also ecstatic as prices hiked by VND8,000 per kilogram, the highest price so far.