As explained by the Ministry of Natural Resources and Environment, the inevitable climate change such as rising sea levels by about a meter along Vietnam's coastline, will flood 39 percent of the Mekong Delta and 35 percent of residents in this entire region will face the impact.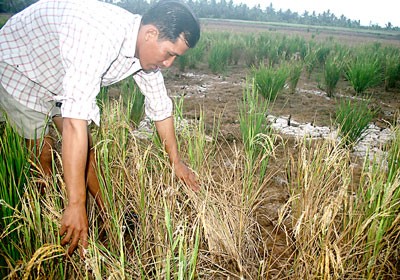 Salt intrusion has devastated many rice fields in Binh Dai District in Ben Tre Province (Photo: SGGP)
Mekong Delta is one of the three most vulnerable delta belts that will face the onslaught and subsequent backlash of climate change in the world.
In recent years, this region has seen unseasonal heavy rainfall and intense flooding, worsening of salt penetration and continuously recurring landslides.
Tens of thousands of households have faced loss of crops and shortage of fresh water in recent years from worsening salt intrusion in Cho Lach District in Ben Tre Province, mainly from February to May.
Tran Van Nam, a farmer in Vinh Thanh Commune in Cho Lach District, said salt water has penetrated far further inland over the last five years and is now threatening his rambutan and mangosteen orchards.
Bui Thanh Liem, head of the Department of Agriculture and Rural Development in Cho Lach District, said that once the area had plentiful freshwater but now in recent years half the district land area is under salt contamination.
Thousands of households have lost direct access to freshwater in the last five years, especially those along Xang Xa No Canal and in Vi Thanh City in Hau Giang Province.
Hau Giang Province has now 11 sluice gates to prevent salt water from damaging rice and other plantations, said Nguyen Van Dong, deputy director of the provincial Department of Agriculture and Rural Development.
The province has also completed 60 percent of the dyke route along Long My District and Vi Thanh City to protect 10,000 hectares of rice fields from salt intrusion.
Added to this, several provinces in the Mekong Delta are faced with recurring landslides, which is affecting the lives of thousands of local people, not to say huge losses to farm production.
An Giang Province is struggling to ward off 45 highly vulnerable landslide spots along Tien and Hau Rivers, of which 14 are most susceptible.
According to Tran Trung Nghia, the flood in 2011 raised the number of landslide prone households by 5,000. The province is finding it difficult to resettle them because of shortage of funds to complete building of 19 residential areas.
Dong Thap Province has more than 100 landslide spots along a 17 kilometer stretch, threatening more than 5,000 households that may need evacuation.
In a report, the People's Committee of Ben Tre Province has said that coastal erosion has swept away nearly 80 hectares of land into the sea, with Thanh Phu and Binh Dai Districts loosing upto 25 meters a year.
Nguyen Van Khang, chairman of the People's Committee in Tien Giang Province, said that Go Cong sea dyke is weakening and needs fortification.
More than 2,000 hectares of protective forest near the dyke has been destroyed. Some dyke sections have collapsed in Tan Thanh and Tan Dien Communes in Go Cong District. A three kilometer stretch needs strengthening as it poses a dire threat to 40,000 hectares of farming land and 330,000 residents.
The sea dyke in the southernmost tip province of Ca Mau has been repeatedly devastated by high tide, with the most vulnerable section being the 100 kilometer stretch across Phu Tan, Tran Van Thoi and U Minh Districts.
 
Cyclonic weather and rising sea levels has caused landslides along long stretches of the dyke in Khanh Tien Commune of U Minh District in just a few days, which are now in high danger of being breached.