As rice cultivation has dropped in the last two years in the Mekong Delta, farmers have switched to planting dragon fruit instead, which brings in two or three times more income than rice.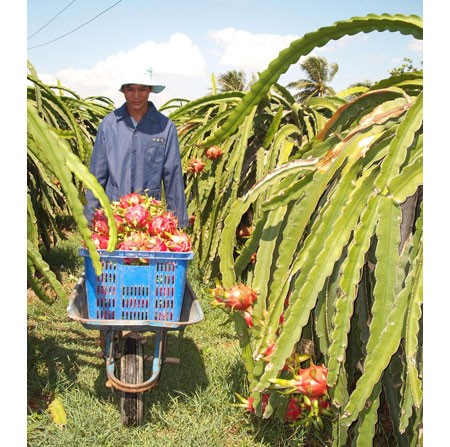 A farmer collecting dragon fruit (Photo: SGGP)
Many farmers in Tien Giang and Long An Provinces have happily switched to growing the popular dragon fruit. Along streets in Long Tri, Duong Xuan Hoi Communes of Chau Thanh District in Long An Province, dragon fruit is seen growing in abundance. The district now plans to cover 2,500 hectares with dragon fruit cultivation by 2015.
Moreover, export processing services are also beginning to mushroom in the province. Hoang Huy Company in Duong Xuan Hoi Commune has opened more warehouses for storing and bought more freezers to store the fruit for export.
A few kilometers from there is another factory using hot steam to treat dragon fruit before shipping--the first factory of its kind in the region that was built at a cost of US$1.5 million.
Vo Mai, Vice President of Vietnam Gardening Association, said dragon fruit is a key agricultural produce of the country for export. Entering the US market for the first time in 2008, the volume of dragon fruit was 100 tons, in 2012 it increased to 1,200 tons and by it is expected that the volume will amount to 2,000 tons for this year. The volume to Japan and South Korea also leaped over the years.
Tran Ngoc Hiep, Director of Thanh Long Hoang Hau Company in the central province of Binh Thuan, said besides the Chinese traditional market, his company plans to expand to EU countries, the U.S., South Korea, Indonesia and Thailand.