Farmers in the Mekong Delta are enjoying a bumper winter-spring rice crop. They have already harvested around 1.5 million tons of rice. Nearly 20,000 tons are left to harvest. The average yield is reported to have reached 6.2 tons a hectare while total production exceeded 9.3 million tons.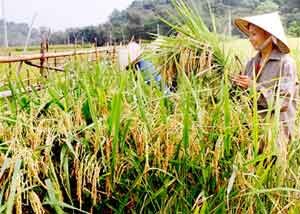 Mekong Delta farmers enjoy bumper winter-spring rice crop
At the same time, some farmers in the region have already started their upcoming summer-autumn crop. Dr. Mai Thanh Phung, member of the Steering Committee for Brown Hopper Prevention and Control, said that the currently higher prices of rice, ranging from VND4,500/kg – 5,200/kg, have encouraged farmers to increase production of the crop.

Up to now, farmers in the Mekong Delta, including the provinces of Vinh Long, Soc Trang, Bac Lieu, Dong Thap, Kien Giang, Long An, An Giang and Can Tho city, have sown nearly 400,000 hectares out of 1.6 million, doubled from last year.

In related news, the price of Tra and basa fish in the delta rose after a month of repeated drops.

In An Giang province and Can Tho city, a kilo of white–flesh Tra fish, used as a raw material for processed foods, ranges from VND15,200/kg to VND15,500/kg depending on its quality, Yellow-flesh Tra fish costs between VND14,000/kg-14,500/kg, up an average of VND1,000-2,000 a kilo compared to three weeks ago.

Many farmers have not yet sold their produce based on the Vietnam Association of Seafood Exporters and Producers' forecast that the price of Tra fish will go up in a next few days due to increased demand for the filet of this kind of fish from Central America, the Middle East and Europe.