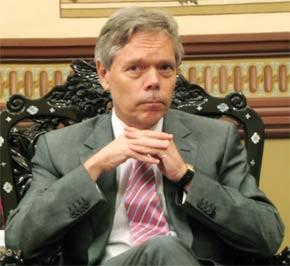 Mr. Klaus Rohland during a working trip in Ho Chi Minh City in August 2006 (Photo: Tuong Thuy)
The Vietnamese Government has rewarded the World Bank's country director Klaus Rohland with a Friendship Medal for his substantial contributions to the nation.
Deputy Prime Minister Pham Gia Khiem presented the medal to Mr. Rohland, who has been working in Viet Nam for five years, at a ceremony in Ha Noi on Friday.
The Deputy PM appreciated Mr. Rohland's contributions, especially ones in carrying out credit programs to support the poor and the nation's efforts to reduce poverty, as well as his contributions to Viet Nam's 2007-2011 socio-economic development program.
Mr. Rohland has so far signed credit lines totaling about US$3 billion for Viet Nam, and has successfully co-organized different Consultative Group meetings for international donors to support the nation. Donors' pledges of official development assistance for Viet Nam have increased continually year after year.