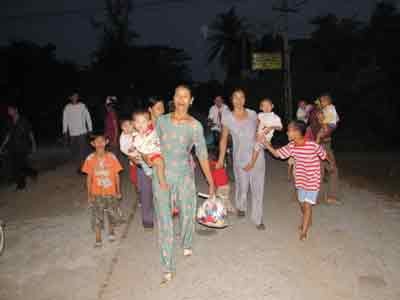 Residents of northern Thanh Hoa Province have been evacuated ahead of Storm Parma (Photo: Tuoi tre)
Authorities in Northern Vietnam have begun evacuating residents and banned all boats from heading out to sea as Typhoon Parma readies to make landfall October 14.
A mass evacuation of more than 1,000 people in the northern province of Ninh Binh's Kim Son District has begun as a precautionary measure in the event of subsequent floods and landslides. More than 600 residents in the province's Giao Thuy District have also been relocated.
Le Cong San, chairman of the People's Committee in northern Nam Dinh Province's Hai Hau District, said over 300 hotels and restaurants have closed their doors in preparation for Parma, Vietnam's tenth major storm to hit the country this year.
Households located along storm-affected coastal areas in the province have also been relocated to safer shelters.
Le Xuan Thuy, an official from the steering board for storm prevention in Nam Dinh Province said all available agencies had been mobilized to help residents prepare.
Nam Dinh's Nghia Hung and Giao Thuy districts also ordered 20,000 shrimp breeders working along the coast to move inland.
Ninh Binh Province's Department of Agriculture and Rural Development has directed agencies to open 59 drains and operate 22 pumping stations to let out floodwater. In case of torrential rains, workers have also been instructed to remain posted at Hoang Long dyke, which broke last year while letting out floodwater.
People's Committee Chairman Dang Xuan Chinh of northern Hai Phong Province said the local government and soldiers have helped move around 100 houseboat dwellers, including children and the elderly, to the mainland.
Hai Phong's Thuy Nguyen District reports that some 1,000 fishing vessels are now anchored in safe areas.


Storm Parma, Vietnam's tenth major storm of the year, savaged Bach Long Vy island October 13.

Uprooted trees and debris were reported strewn across roads while many houses saw their roofs blown away. Immense waves lashed the island as visibility fell to 20 meters.

A windmill collapsed in the strong winds.

Government officials on the island prohibited residents from leaving safe areas and evacuated those living in makeshift or unsafe homes. Maintenance crews are facing difficulties due to heavy rains and strong winds.

The island also has some 300 boats which fishermen say they are unable to securely anchor due to the strong winds. Several vessels have sunk after colliding with one another in the rough seas.