Truong Tan Sang, politburo member and chairman of the steering committee of the new rural renovation plan, believes that the rural lifestyle in communes must first show signs of success in its pilot renovation plan before it is implemented throughout the country.
Addressing a meeting organized by the Steering Board of the Renovation Plan in Hanoi on July 16, to review two years since its implementation, Sang told relevant agencies to help local governments speed the plan.

Moreover, local governments should prioritize selected communes for capital loans. In addition to state budget, local administrations should call for other contributions from society.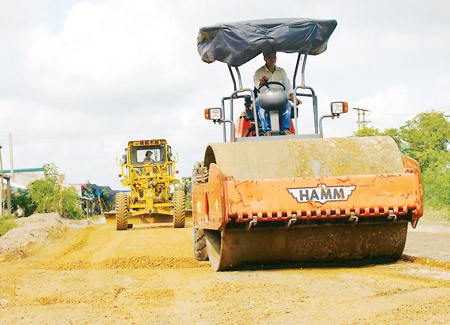 Hai Hau District in the northern province building new road (Photo: SGGP)
After two years since implementation of the renovation plan, the selected eleven communes bear a completely new look, Minister of Agriculture and Rural Development Cao Duc Phat said at the meeting.
Phat said that the renovation plan has given countryside communes a new life and lives of inhabitants in these communes have also improved. Furthermore, most communes have fulfilled 14 out of 19 criteria set by the government.

Basic infrastructure has improved considerably including construction of educational institutes, roads, irrigation networks, cultural entertainment parks, markets, post offices and production. More attention has been given to cultural, social affairs and environment protection.
Tan Thong Hoi commune in Cu Chi district of Ho Chi Minh City has even been able to meet 16 out of 19 criteria.
However, all communes cannot meet all criteria, such as laborers being able to find a secondary source of income to increase their income levels.
Phat said that the selected communes that concentrated on building infrastructure during 2010 must now summon strength to increase production levels to increase farmers' income in 2011 as per the plan's target.
Commune governments encouraged residents to switch work as per suitability to boost earnings. Le Thanh Liem, director of the HCMC Department of Agriculture and Rural Development said farmers in Tan Thong Hoi commune switched from rice to growing vegetables and 3,000 farm workers switched to handicraft production and services resulting in increased income from VND18 million in 2009 to VND25 million (US$1,190) in 2011.
Dang Quang Tao, committee secretary of Tan Thinh commune in the northern province of Bac Giang, said the commune focused on planting tobacco and cherry tomato plants for exports. Today annual revenue from tobacco is VND15 billion whilst that of cherry tomato, VND100 million per hectare. Many farmers have become billionaires and people in the commune are eager to work hard and fulfill the plan's criteria.

The 11 communes participating in the pilot renovation plan are Thanh Chan Commune in Dien Bien District in the northern province of Dien Bien; Tan Thinh Commune in Lang Giang District in the northern province of Bac Giang; Hai Duong Commune in Hai Hau District in the northern province of Nam Dinh; Thuy Huong Commune in Chuong My District of Hanoi; Tam Phuoc Commune in Phu Ninh District in the central province of Quang Nam; Gia Pho Commune in Huong Khe District in the central province of Ha Tinh; Tan Hoi Commune in Duc Trong District in the highland province of Lam Dong; Tan Hoi Thong Commune in Cu Chi District of Ho Chi Minh City; Tan Lap Commune in Dong Phu District in the southern province of Binh Phuoc ; My Long Nam Commune in Cau Ngang District in the Mekong delta province of Tra Vinh and Dinh Hoa Commune in Go Quao District in the Mekong delta province of Kien Giang.
Related article:

Vietnam strives to improve rural areas