More than half of Vietnamese consumers are not aware of their rights, according to information from an online conference organized by the Government website on Friday.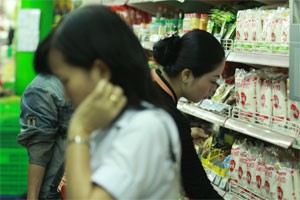 Shoppers at Saigon Co.op supermarket. A Friday conference says many consumers do not know their rights (Photo: Minh Tri)
Nguyen Manh Hung, vice chairman and general secretary of Vietnam Standard and Consumers Association (Vinatas), said at the conference that 55 percent of consumers when asked did not know what rights they have.
Many consumers do not care about the laws protecting them and they have been abused as they don't know how to protect themselves, Hung said at the conference about better implementation of Consumers Protection Law.
The conference was joined by leaders from Vinatas and the Ministry of Industry and Trade.
As a number of consumers felt cheated by advertisements on press media and televisions, which gave false information about products' quality, Hung said that the consumers need to know more about market operation to adjust their trust.
He said that according to the Consumers Protection Law, both the advertisement makers and the means of media publishing it are responsible for providing false information.