Viet Nam's capital is set to have fireworks displays at 10 places on the Lunar New Year's Eve on February 16, a Ha Noi official said.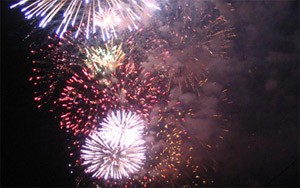 A fireworks display in Ho Chi Minh City on the 2006 Lunar New Year's Eve. (Photo:UP)
The 10 locations are Ngoc Khanh Lake, Ly Tu Trong Park near West Lake, Dua islet near Bay Mau Lake, Lu Temple in Hoang Mai District, My Dinh Square, Sword Lake, the Central Post Office, and districts Dong Anh, Gia Lam and Soc Son, said Ngo Thi Thanh Hang, deputy chairwoman of the Ha Noi People's Committee. The displays will cost over VND900 million from Ha Noi's budget.

Ms. Hang added the People's Committee has decided to spend VND27 billion on presents for wounded soldiers, martyrs' families and revolutions' credited people, and VND3 billion to support poor families.

Meanwhile Ho Chi Minh City authorities have not made the final decision on setting off fireworks on the Lunar New Year's Eve. A previous decision of no fireworks displays in order to save money to help poor people has raised strong arguments.