Lumberjacks in the mountainous districts of the central province of Quang Nam are recklessly and indiscriminately cutting down trees for their own short term profits.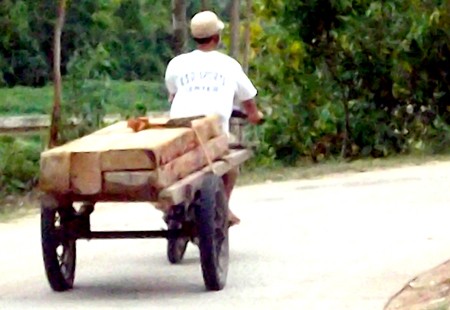 Man transporting illegal timber in daytime (Photo: SGGP)
Sai Gon Giai Phong reporters spent two days and a night at Thanh My town in Nam Giang District and were shocked at what they saw. Motorcycles whizzed up and down the Ho Chi Minh Highway, heedless of forest management posts, transporting timber from Phuoc Son, Dong Giang and Tay Giang districts to Dai Loc District for selling in the market.
Within a matter of just 30 minutes in one afternoon, reporters sitting in a coffee shop near Thanh My Bridgehead witnessed at least 10 motorcycles carrying wood speed by them. On the other side of the bridge, a forest management post was ignorant of these activities by lumberjacks.
A local residing near the bridge said the lumberjacks mostly operated from 7pm until 3am every night. Groups of ten vehicles each transported wood from Tay Giang across the bridge to Dai Loc. They are a menace for local people as they drive fast and often cause hit and run accidents.
 
The lumberjack gang is numbered in hundreds, according to local residents. A group of 30-40 men transport the timber while the remaining keep watch for local authorities. They not only transport the wood by motorcycles but also by boats along Bung River at night.
Lumberjacks beat officials
Do Tuan, head of the Nam Giang forest management division confessed that lumberjacks are quite aggressive and can attack officials to rescue their own gang members and rob the seized wood back.
Several officials have been assaulted and one even died while chasing the wood thieves, Tuan said, who was also once overpowered and handcuffed by lumberjacks.
Most of the lumberjacks are drug addicts who are willing to fight to the finish when pursued or captured.
The woodcutters have the upper hand with hundreds of members while only 40 officials manage over 98,000 hectares of forest in Nam Giang District, where today not a single old tree remains standing. Forests in Tay Giang and Phuoc Son have also been denuded, Tuan said.
The lumberjacks are now becoming bolder by fearlessly setting up camps close to the Ho Chi Minh Highway, unlike in the deep forest as before.
On the way from Dong Giang to Tay Giang on a late afternoon, the reporters witnessed the lumberjacks saw a trees into plinths at Ba Dau forest in Thanh My town. Sawmills were noisily operating but no official was to be seen in the vicinity.
Returning to the same scene the following morning, the reporters said over 100 square meters of forestland was covered with huge piles of sawdust, estimated from hundreds of cubic meters of wood.
The remaining forests in the mountainous areas of Quang Nam are continuing to be cut down and transported for sale.