Thanks to a northern cold front, Vietnam's north-central region finally saw rain on March 9, helping anxious rice farmers save billions of dong after a two-week drought. The farmers had been forced to pour money into hiring laborers and purchasing petrol for machines to help irrigate their water-starved rice fields.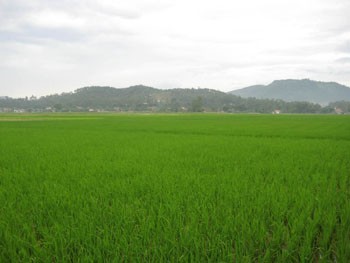 Rain on March 9 helped ease drought conditions for rice fields in north-central regions
The rain began on the night of March 8 and lasted into the next day, in provinces between Nghe An and Thua Thien-Hue. The rain also helped the winter-spring rice crop by constraining the development of pests and insects.
Thousands of hectares of forest in the provinces of Thua Thien-Hue and Quang Tri were also in desperate need of moisture. The areas were at a high risk of forest fires, having seen no rain since the beginning of 2010.
The cold front also led to a slight lowering of temperatures in the southern region, with some areas experiencing showers from noon on March 9.
According to the Southern Regional Hydro Meteorological Center, beginning on the night of March 10, temperatures in the south should continue to slide lower over the coming days to a high of 31-33 degrees Celsius. Nights also look to be cooler with strong winds.
Some areas of HCMC, Binh Phuoc, Dong Nai and coastal provinces could also see showers in the next few days.