Mekong Delta Province of Long An Tuesday held a memorial ceremony in honor of Nguyen Thai Binh who was an anti-war Vietnamese student in the US and shot dead by agents of the US Central Intelligent Agent (CIA) in a flight from the US to Vietnam 40 years ago.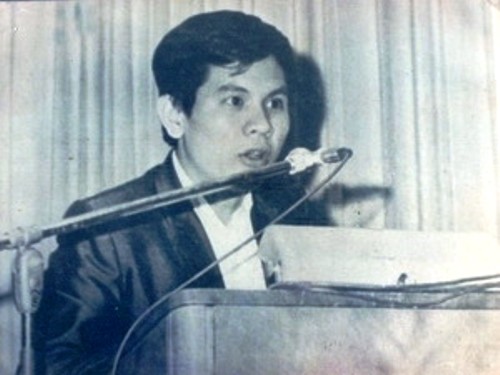 The filed photo shows Nguyen Thai Binh dilivering speech at an anti-war forum during his study in the US from 1968 to 1972.
His remains were also reburied in the martyr cemetery of Long An Province which is his hometown.
Nguyen Thai Binh was posthumously bestowed the title "Hero of the People Army Forces" in 2010 for his patriotic and anti-war activities during his study in the US.
He was an excellent student and chosen to study in the US in 1968 while the US was invading Vietnam.
He was a leader of Vietnamese students' anti-war movement in the US. At the graduating ceremony in Washington University in 1972 he condemned the US Government and its troop's crimes to the Vietnamese people and asked for freedom of revolutionary soldiers in Vietnam. Because of his anti-war activities he was expelled by the US Government.
Before returning home he sent two letters, one to people who love peace and justice and another to US President Richard Nixon, in that he began with a famous sentence: "I am Vietnamese"
Nguyen Thai Binh returned Vietnam on the flight 481 of Pan Am airlines. When the flight was landing, CIA agents shot Nguyen Thai Binh dead after making hijacking slender against him and they threw his body on a runway of Tan Son Nhat Airport.
His family brought his body out of the airport and buried him in a field of Tan Kim ward, Can Giuoc District, Long An Province.