A quixotic plan

The plan was proposed by the Ministry of Transport with an investment of US$58.71 billion, and was deemed achievable by the joint venture consultant TEDI-TRICC-TEDIS. All the while, the North-South high-speed railway is still under construction with two of its sections, Hanoi-Vinh and Nha Trang-HCMC, supposedly pledging US$24 billion from 2020-2030.
Deputy Minister of Transport Nguyen Ngoc Dong stated that the budget and investment divergence were carefully calculated to ensure feasibility and efficiency.
Many life-long train passengers seem skeptic about the prospect of a new train system, expressing that they would rather existing ones be repaired or enhanced in terms of speed. A chief conductor on Hanoi-Dong Dang route commented that he would advocate this plan if it enabled a rise in workers' wages.
At the moment there are about 300 locomotives in service on meter-gauge tracks all across the country, 90% of which are more than 30 years old. The railway industry holds only 1% of national transport market share.
Multiple factors at play
Regarding the high-speed rail system, British railway historian Tim Doling stressed that shifting focus to upgrading available train tracks would greatly benefit national tourism and yield significant revenue. Additionally, once Vietnam's railway transport has become on par with its inland carriage, it will play an essential role in the integration with Asian railway systems.
He also showed great enthusiasm on the topic of railway electrification, noting that it would triumph over inland transport in terms of reducing traffic jam and pollution with proper treatment. "Citizens would usually prefer airplanes if they want fast travel, so there really is no need for Vietnam to have a high-speed 'Shinkansen' system", he said.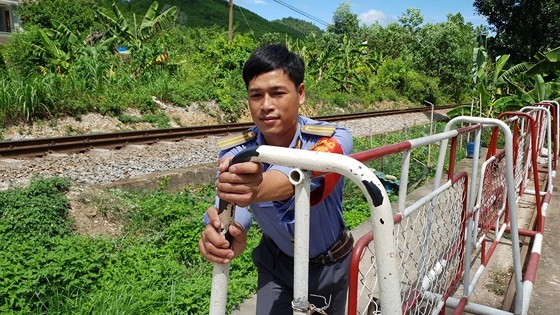 Rail guarding is still a manual task (Photo: SGGP)

On the other hand, Associate Professor and Doctor Ha Ngoc Truong, Vice Chairman of HCMC Port and Road Association said that building the new high-speed system with meter-gauge rails would not be possible, since it would have to be connected to standard-gauge railways of other countries as part of an international system for economic and social development.

Meanwhile, infrastructures for standard 1,435 mm gauge rails would require new power system, freight cars and high-speed locomotives only enabled with huge investments. This will be highly tricky in the context of inadequate state budget.
More underlying risks
An investment in a high-speed train would just create redundant passenger capacity while cargo transport capacity is still lacking, as emphasized by Professor La Ngoc Khue, former Vice Minister of Transport.
He also stated having a passenger train traveling at 350 km per hour is a waste and would put much burden on the economy. On the technical aspect, such a large scale project demands extremely high quality standards to be met which is way beyond Vietnam's current technical level. The professor feared the railway industry would lose initiatives and become dependent on foreign partners as a result.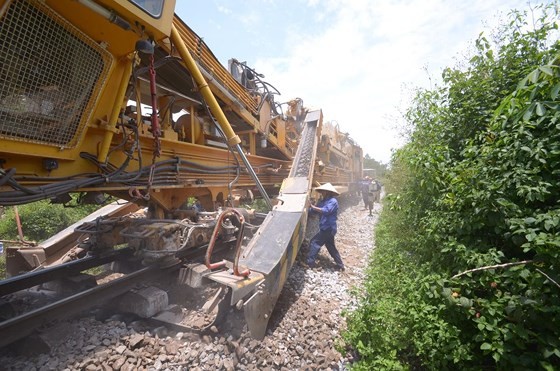 Rail maintenance by filtering rocks and pebbles (Photo: SGGP)

Opening realms of possibility

Many expert agrees with the Ministry of Planning and Investment's proposal to choose the 200km per hour option for the new railway system. It would not only resolve urgent needs for both passenger and cargo transport but also be a better fit for the country's economy as well as technical expertise.
There are 33 countries worldwide that plan to develop high-speed railways, 22 among which also opt for the 200km/hour option over 300km, as it is more feasible and requires lower operational expenses, according to statistics from the Environmental and Energy Study Institute (U.S.).
In another development, Nguyen Manh Tien, Vice Chairman of the Foreign Affairs Committee of the National Assembly was determined that Vietnam must localize its own railway system to minimize costs and expenses, to own the technology and create incentive for national economy.
Moreover, according to Professor La Ngoc Khue, there will be at least 4 standard-gauge railway lines established in the northern region. If the North-South railway can be utilized for both passenger and cargo transport, it can be connected with these 4 routes and serve as a key factor in the entire network, promoting the industry's overall capacity.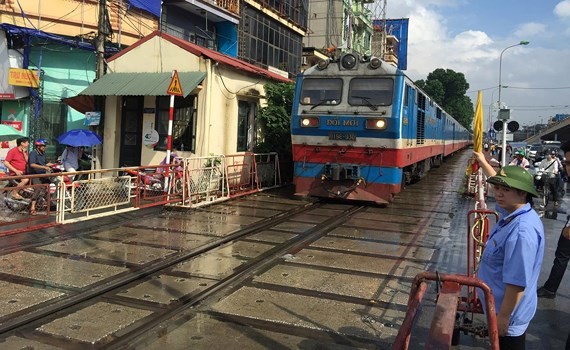 The North-South train crossing Hanoi (Photo: SGGP)

For the past decades, Vietnam has been prioritizing inland transport to cope with limited state budget, which led to high logistic costs, said Deputy Minister of Transport Nguyen Ngoc Dong. Recently, the World Bank has shown that Vietnam's logistics costs account for 21% of national GDP, which is the highest in the region and 4-6 times higher than that of developed countries. The new high-speed railway would help ease the burden on logistics expenses, Mr. Dong believed.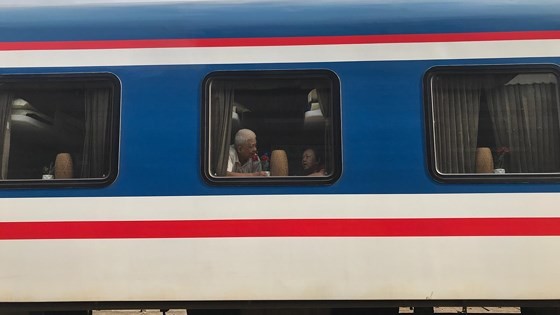 A soft seat coach in a North South railway train (Photo: SGGP)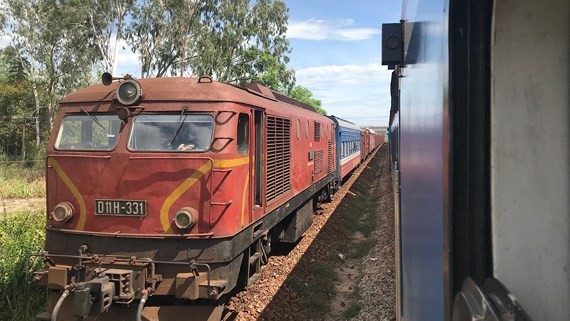 The railway industry has nearly 300 locomotives in service with 90 percent of them aging 30 years at least (Photo: SGGP)