Deputy Prime Minister Trinh Dinh Dung yesterday presided over a conference in Soc Trang province to discuss application of prompt and assertive measures against the current drought and salinity in the Mekong delta region.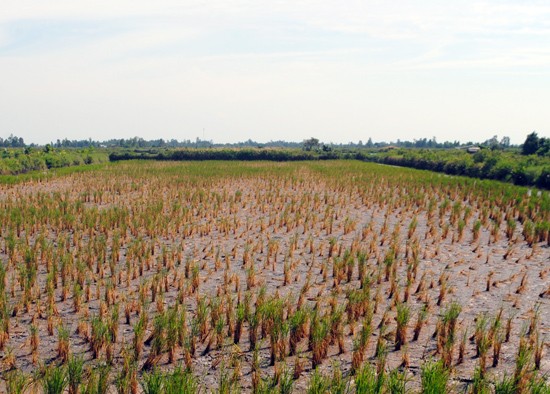 Many paddy fields in ca Mau die due to drought and salinity (Photo: SGGP)
More than 96,369 hectares of the winter-spring rice crops in the Mekong delta have been destroyed by the drought and salinity; of which the productivity of 42,100 hectare of rice has reduced by 70 percent. It was reported that 8,133 ha of the summer-fall rice crop have also been affected.
Meanwhile the area for growing orchard damaged by the drought and salinization is 9,427 hectares and most is in Ben Tre.

Additionally, around 225,800 households in the region face shortage of fresh water for daily activities including 86,200 households in Ben Tre province; 43,000 households in Soc Trang province and 25,000 households in Kien Giang province. According to locality reports, the region needs VND330 billion (US$14,803,795) to buy fresh water for demand.

Worse, due to increase salt level in water, there has been loss in 2,000 hectare of aquatic breeding in provinces Tra Vinh, Kien Giang, Ben Tre, Ca Mau and Bac Lieu. Some localities actively faced with the drought and salinization by spending its state budget dredging canals, building dykes, and pumping station.
Hau Giang, Bac Lieu, Kien Giang had built dykes to prevent salinity and keep fresh water. Tien Giang authority used pumping station to provide water to many localities in the province while Ben Tre used barges to carry fresh water to communes which are facing severe shortage of water. Soc Trang organized stations to provide free water to residents and gave households filter machines.

Agriculture Minister Cao Duc Phat forecast that the drought and salinization will continue in next months with high temperature as rainy season is expected to come late.
Accordingly localities should keep an eye on the development of the weather and the hydro meteorological forecasting centers and the Vietnam Academy for Water Resources to for timely advice for farmers.

Deputy PM Dung lauded locality authorities in Mekong delta to have actively applied effective measures to cope with the drought and salinization during the current dry season. Mr. Dung noted that the provincial leaders should use all ways in accordance with the state regulations to help residents in the region to overcome the dry season and stabilize their life.
For long-term, the Deputy PM asked the Ministry of Agriculture and Rural Development to update plan to face with climate change, provide timely information of drought and salinity to adopt measures successfully.