That was announced at a meeting in Hanoi this morning by the Central Steering Center on Natural Disaster Prevention. The meeting, presided over by deputy Prime Minister Trinh Dinh Dung, discussed solutions to repair typhoon and flooding aftermaths.

According to reports by the steering center, the number of dead and missing people have totaled 114 this morning including 91 dead and 23 missing.
In Binh Dinh province, the death toll comprises seven residents and ten shipwrecked victims.
In addition, the center reported 120,000 houses collapsed or roofless, 10,000 hectares of rice and 15,203 hectares of vegetables flooded, 25,957 seafood farming rafts suffered complete loss. At least, 1,294 fishing boats have been sunken or damaged.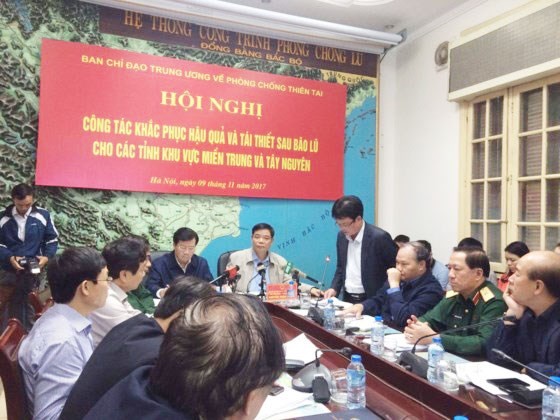 A view of the conference this morning (Photo: SGGP)
Implementing the Prime Minister's instruction, the center and local authorities have urgently assisted residents to remedy typhoon and flooding consequences.
So far, they have assisted 35,168 evacuated people to return their homes, basically restored electricity grid except three 110kV transformer stations in Khanh Hoa province which have not been repaired.
By yesterday afternoon, traffic has been resumed in National Highway 1A. Ho Chi Minh Highway in Hue and Quang Nam provinces and Highway 27C in Lam Dong province have still been congested.
Landslide debris has blocked North South Expressway in Ca Mountain Pass. It is expected to be cleared today to reconnect railway traffic in the area. Most filling stations have reopened their doors.
Most necessary items have seen prices remain unchanged. Vegetable prices have hiked by 3-25 percent or even 30-40 percent in places such as Quang Namj. Brick, tile and corrugated iron sheet have hiked VND5,000 a square meter.
The Central Steering Center on Natural Disaster Prevention has proposed the Prime Minister to send emergency reliefs to typhoon and flood devastated provinces including 3,4000 tons of rice for Thua Thien-Hue, Quang Tri, Quang Nam, Quang Ngai, Binh Dinh, Phu Yen, Khanh Hoa and Dak Lak provinces.
The Ministry of Industry and Trade should instruct relevant sides to repair and restore the entire power system especially to Khanh Hoa province, supply goods to areas where have showed sign of price hike and coordinate with the Ministry of Construction to control building material prices.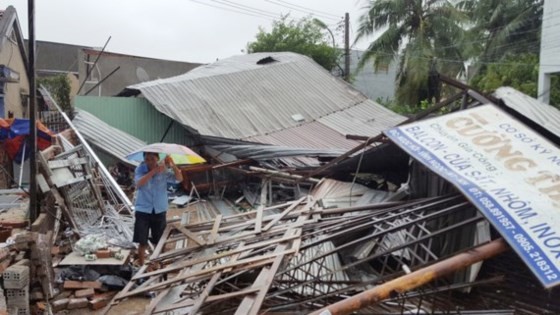 Typhoon Damrey has left over 120,000 houses collapsed or roofless in the central region of Vietnam (Photo: SGGP)
The Ministry of Health should dispatch delegations to damaged areas to prevent disease outbreak. The Ministry of Defense should continue mobilising forces to help residents clean the environment, repair houses and resume production.
The center also suggested Ministries of Finance, Planning and Investment to arrange capital including official development assistance funds for reconstruction after typhoon and flooding.