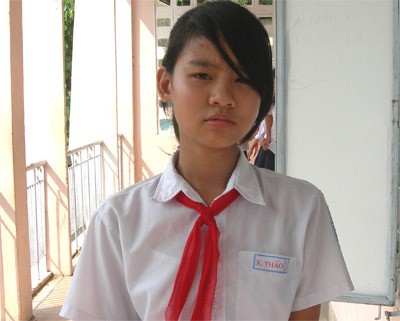 Nguyen Dac Xuan Thao.
A letter written by a seventh grade student to President Nguyen Minh Triet won top prize at the national UPU letter-writing competition this year.
The theme for the 2009 competition is "Write a letter to someone to explain how decent working conditions can lead to a better life".
The letter by Nguyen Dac Xuan Thao, student from Junior High School Nguyen Hue, Hai Chau District, Da Nang city, was unanimously praised by the jury.
"The letter is very humanistic", said the jury.
The letter was also said creative because Xuan Thao imagined she were a little daughter whose father became disable after a labor accident. The daughter told her story, hope and her father's accident to the President. In the letter, Xuan Thao also reflected how bad labor conditions would affect on workers' life and their relatives.
The award ceremony was held in Ha Noi on May 28.
This year, Vietnam Post, the organizer of the competition, also presented runner-up prizes to various individuals and groups.
The original copy, and a French version, was sent to the Universal Postal Union's 38th international letter-writing competition.