The rescue team dispatched to the Can Tho Bridge collapse area has found eight more dead bodies underneath the concrete, pushing the number of deaths up to 46.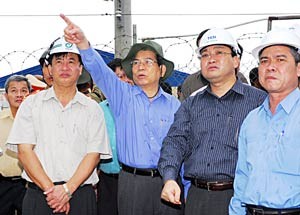 President Nguyen Minh Triet ( second, L ) gives guidance to the rescue team

Reports from relevant officials said that about 122 workers have fallen victim to the accident. Among 76 workers currently under medical treatment in local hospitals, 17 of them are seriously wounded and two are in great danger. It is also estimated that about 10 workers are still trapped under the collapse.

Arriving early to the scene yesterday morning, Deputy Prime Minister Hoang Trung Hai ordered local rescue teams to give top priority to the search for workers stuck under the collapsed bridge.

At the suggestion of Japanese contractors, the rescue work will be continued by destroying the concrete from the top of the pylons downward to avoid the risk of another collapse.

The accident also revealed that many construction workers were employed without labor contracts or health insurance.

President Nguyen Minh Triet arrived in Can Tho province yesterday to guide the rescue team, investigate the cause of the accident, and visit the victims in the Can Tho General Hospital.

President Triet expressed his condolences to the Can Tho people and the construction crew.
He stressed that all relevant officials must speed up the search for the missing and give prompt treatment to people injured in the collapse. Moreover, families of those who have died in the accident should receive more support from the Government as the sudden loss of their loved ones will surely affect their lives for many years to come, he added.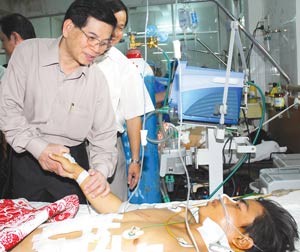 President Nguyen Minh Triet visits a victim in a hospital
People from all over the country have joined hands to support the Can Tho people as they try to overcome this tragic accident.
President Triet was especially touched by the country's tremendous support for victims of the Can Tho Bridge collapse. In the last two days, local hospitals have received 3,000 units of donated blood given by thousands of officials, workers, and people from many parts of the country.
A great amount of aid in the form of cash and relief supplies is also on its way to Can Tho province. As of today, the Sai Gon Giai Phong Newspaper has received VND1 billion in donations for the victims of the collapse.
The Health Ministry also mobilized 29 doctors from Ho Chi Minh City to support local hospital staff who are working around the clock in their relief efforts.
According to initial reports from the Petrolimex Joint Stock Insurance Company (PJICO) and Petro Vietnam Insurance Joint Stock Company (PVI), it is estimated that the losses caused by the accident total about US$2.5 million.
Victims of the accident will receive VND10 million per person from PJICO.
Related article:
Death Toll Reaches 46 in Can Tho Bridge Collapse