On the 55th anniversary of Dien Bien Phu Victory May 7, Truong Tan Sang, Politburo Member and Standing Member of the Secretariat of the Vietnam Communist Party Central Committee, led a delegation to the Dien Bien Phu Martyrs' Cemetery May 6.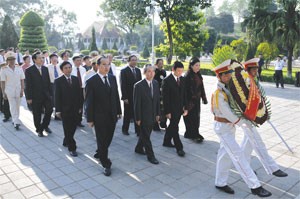 Vietnamese leaders visit the Dien Bien Phu Martyrs Cemetery May 6 (Photo: SGGP)
Party and State leaders laid wreaths and offered incense at the memorial to commemorate the great sacrifice of those who had fallen for independence and freedom of their fatherland.

Mr. Sang, together with Party and State leaders, then paid a visit to the Dien Bien Phu Victory Monument on Hill D1 and a cluster of Dien Bien Phu historical sites, including the dugout of Christian Marie Ferdinand de la Croix de Castries, French commander at the Dien Bien Phu battle in 1954.

Mr. Sang also met with the workers of the Dien Bien Cement Plant and Thanh Nua Rubber Plantation in Dien Bien District.

In 1954, the Dien Bien Phu campaign lasted two months and ended successfully on May 7, resulting in the Geneva Accord on restoring peace in Indochina.
* In related news, a VND14 million stone monument, representing Vietnamese troops dragging heavy artillery, was erected at Xa Nhan Commune, Dien Bien District , Dien Bien Province, May 6 to mark the anniversary.

The statue is 21 meters in length, 13.5 meters in height and weighs 1,200 tons. It is the largest stone monument ever made in Vietnam.

The monument depicts 29 artillerymen dragging heavy artillery gun up a mountain trail through a forest.