National Assembly deputies on Nov. 2 heard Government reports on bills relating to higher education and the need for better research institutions to help industry and agriculture develop.
The Assembly's Committee on Culture, Education, Youth and Children said that universities are trying to become research institutions. This meant that they need to become more independent to carry out high-quality training.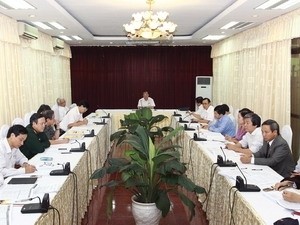 National Assembly deputies of Hai Duong, Khanh Hoa, Lam Dong and Ben Tre provinces meet in groups (Photo: Vietnam News Agency)
Article 28 of the draft bill regulates the main principles for this to happen. The Minister of Education and Training, Pham Vu Luan, was asked by the committee to work with relevant ministries to outline the specific regulations for universities wishing to make the transition.
The committee found that this objective is an essential move for the Vietnamese educational system to be consistent with world trends in higher education.
Currently the Ministry of Education is responsible for overseeing the enrolment process at both State and private universities.
Under the proposed training scheme, educational institutions will control their own admissions. However, the Ministry will keep a firm eye on the process and monitor any violations.
Deputies also heard reports on draft bills relating to legal promulgation and education, deposit insurance and water resources.