The National Assembly on Tuesday passed a resolution to have Vietnam's total rice acreage at 3.81 million hectares by 2020, down from 3.95 million hectares planned until in 2015.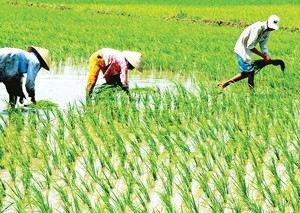 File photo shows rice cultivation in Vietnam (Photo: Sai Gon Giai Phong)
The resolution says the country's total farmland area by 2020 is 26,732,000 hectares, a little higher than 26,550,000 hectares planned until 2015.
The National Assembly set eight tasks and solutions to carry out the country's land use plan by 2020 and the national land use plan until 2015.
The newly approved resolution says priorities will be given to policies worked out to assure rice farming.
The use of land for out-of-agriculture purposes must be in accordance with that planning, the resolution says.