The remainder of a 70-meter long section of Highway 91 in An Giang Province, which collapsed into the Hau River on March 22, has now also fallen into the water.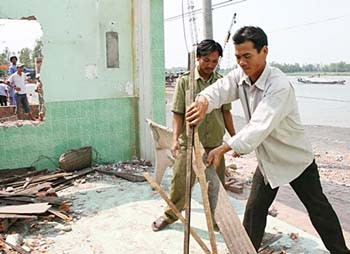 Residents living along Highway 91 in Binh My Commune, Chau Phu District, An Giang Province evacuate their homes after a section of the roadway suddenly fell into the Hau River March 22-23 (Photo: SGGP)
A severe landslide occurred on March 22, narrowing the road's surface from 11 meters wide earlier, to just one meter. On the afternoon of March 23, the last of the section fell away, forcing all vehicles to travel along other routes to the southwest border of Vietnam.
Officials have fenced off two sides of the damaged road to prevent people and vehicles from traveling through.
Hundreds of people including workers from the Road Management Zone 7 and reserve army forces have been mobilized to help evacuate over 100 households living along 370 meters of the highway and 60 meters inland from where the collapse occurred.
Facing the same situation, resident Bui Trung Tin said that he saved for many years to build a new home, which he lived in for just one year, and was heartbroken to see it being torn down to make room for the new detour road.
All he can do now is waiting for assistance from local authorities, he said.
Nguyen Van Tuoi, deputy chairman of the Chau Phu District People's Committee said that several measures have been proposed to help the evacuated residents relocate.
Under one proposal, each household would receive compensation for their property and VND40 million (US$2,000) to resettle elsewhere, he said.
A second proposal suggests that authorities help residents move to nearby Binh Thuy Commune or near Cay Duong Market in Binh My Commune, 500 meters from where the landslide occurred.
After clearing the site, officials will meet with residents to choose the best relocation solution.
Vehicles forced to detour
Highway 91 is the main road for travel from HCMC, Can Tho City, Kien Giang and Long Xuyen provinces to the southwest border districts of An Giang like Chau Doc, Tinh Bien and An Phu.
Officials have been directing thousands of vehicles traveling on the highway to Chau Doc District to take alternative routes.
Small vehicles can also take an old route via the Nang Gu Ferry.
Large vehicles have been advised to take provincial road 941, 50 kilometers farther to Chau Doc District than if traveling on Highway 91.
Road 941 is also more dangerous and narrow with many severely downgraded bridges that can only accommodate 8-10 ton vehicles.
Nguyen Thanh Tam, director of An Giang Province's Department of Transport said that despite the increased risk, his department could do nothing to stop vehicles from traveling on road 941.
To ensure safety, he said the department has mobilized traffic inspectors and police to closely monitor vehicles along the road, especially at weak bridges to prevent overloaded busses and trucks from passing through.
Highway out for 3 days minimum
At a meeting between the An Giang Province People's Committee, Road Management Zone 7, and relevant authorities on March 23, officials agreed to complete site clearance to open a detour next to the landslide site by March 26.
The Road Management Zone 7 earlier planned to build a 180-meter long iron bridge so that small vehicles could travel through the area.
However, according to a survey by the provincial Department of Natural Resources and Environment, this is not feasible as an additional 400 meters of the riverbank are still in danger of collapsing into the Hau River.
The only suitable measure thus far has been to clear away residents' homes in the area to re-connect the highway.
According to authorities, the highway section fell away due to land erosion caused by three river eddies, measuring 18-20 meters deep.
The Department of Natural Resources and Environment has said it will carry out research into preventing the eddies from causing further damage.

Related article:
Mekong Delta highway section collapses into river