The body of 22-year-old Tran Thi Kim Hang, a resident of Krong Pak District, who was killed in the recent boat tragedy, was recovered by the rescue team in Dak Lak Province, morning of March 16.
Dinh Xuan Son, Director of the Dekalb Company in Ho Chi Minh City, told reporters that all the victims on the ill-fated boat had been identified by their relatives.
As reported earlier, an overloaded boat carrying 12 people sank in the Krong No River in Dak Nong Province on Tuesday, March 13, killing six people, most of them in their 20s.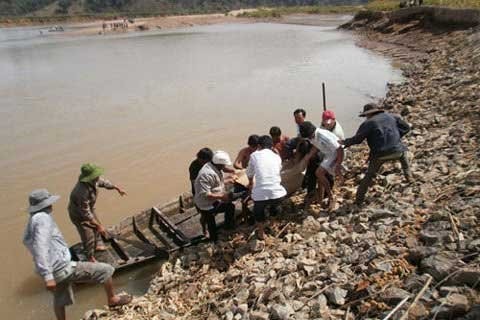 the scene of the accident (Photo: SGGP)
The incident occurred Tuesday evening when the boat, meant only for three persons, capsized after it was engulfed by strong waves triggered by a gush of water released abruptly by the Tua Sarh hydropower plant reservoir.
Six people, including the boatman, managed to escape while the others were swept away by strong currents.
Authorities from Krong No and Lak Districts of Dak Lak Province mobilised rescue teams to search for the victims.
The boat was carrying staff members on a business trip to examine cultivation of a variety of maize seedlings that the company provided to local farmers.
According to authorities, the driver of the boat was an amateur and the boat was not even equipped with lifebuoys.