Landslide has threatened to sweep away a street in Hoi An ancient town, which was recognized as a world cultural heritage by UNESCO in 1999, in the central province of Quang Nam.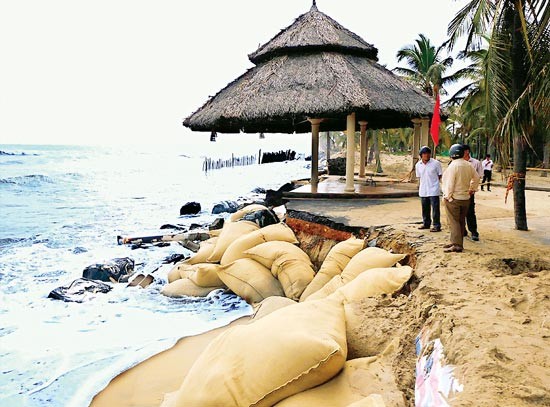 Seawater has swallowed Cua Dai Beach in Hoi An (Photo: SGGP)
The city including three main streets is located in the lower reaches of Thu Bon River. Bach Dang Street closed to Hoai River, a tributary of Thu Bon, is regularly inundated during the flood and storm season.
A 900m embankment built in 1967, stretching from Hoi An Market to Chua Cau (Japan Bridge), has severely downgraded with some burst sections.
Bach Dang Street has showed signs of depression for the last several years. Local people and authorities used bamboo stakes to prevent landslide but they were swept away with the swift-flowing river.
Ms. Huynh Thi Trinh, whose house is located in the Bach Dang street, said that river landslide had worsened for the last two years and threatened to sweep away Bach Dang Street.
"We worry that the river will wash away the street and collapse our houses in the flood season," she said.
Ten years ago, Cua Dai Beach in Hoi An was one of the most beautiful beaches in the central region with sand bank stretching over 300 meters from the sea to a coastal road. The beach is completely eroded now.
Mr. Tran Van Tri, director of the Quang Nam Department of Planning and Investment, said that the province has submitted a project of building Hoi An city embankment to the Ministry of Natural Resources and Environment but it has not been approved, yet.